Finally, an affordable, attractive and rugged composting toilet for outdoor camping or off-grid cabins or houses!
-----------------------------
• COMPACT TWO PIECE BASE FOR EASY TRANSPORT & USE
• EASY TO USE
• PORTABLE
• RUGGED WOOD CONSTRUCTION
• SANITARY
• AFFORDABLE
• MADE IN THE USA
STANDARD OPTIONS:
- WHITE TOILET SEAT
(wood is standard)
- Comes with 2 containers
with lids.

CHOICE OF STAINS:

• Natural
• Walnut
• Redwood
• Jacobean
OPTIONAL ADDITIONS:
• Toilet paper roll holder
add $15
• Extra bucket containers
with lids - add $5.00 ea.
COMPARE COST:
Similar products cost $900 - $1,300... many are large, require mounting, and need venting systems and electricity.
Afforda-Potty™
cost: $575
including shipping!
(within the continental USA)

How to order:
Send e-mail to links below
Payment by check, money order or PayPal.
We will send an invoice via e-mail or PayPal to your verified e-mail address.
Please allow 3-4 weeks for delivery. Each composting toilet is custom made in the USA by master cabinet makers.


Click e-mail link above
to Order
or if you have
any questions
HOW IT WORKS:
1. Insert 2 gallon compost bucket in bottom base.
2. Set top of base on unit.
3. Sit on seat (hopefully with your pants down), and slide open plexiglas seal.
4. Do your business.
5. Drop in a handful (about 1-2 cups) of soil, pine needles, leaves, juniper or evergreen duff, sand, or any other handy organic material.
6. Slide plexiglas seal back in place to seal off odors.
7. Remove and seal compost bucket with lid when approximately 3/4 full and set aside, add to a compost pit or discard safely. Place replacement bucket in base and replace top.
COMPOSING TIPS:
1. Ideally, place used paper in a basket and burn, but it can be added to the bucket. Composting paper is best but not necessary.
2. Bury in a pit and cover with at least 6 inches of dirt. Allow several months for the organic matter to decompose.
© 2016 www. myfambly.com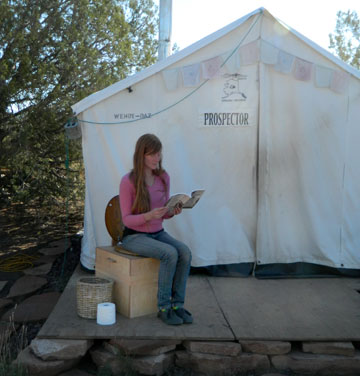 Use for tenting or off-grid cabins - light weight two piece wood base.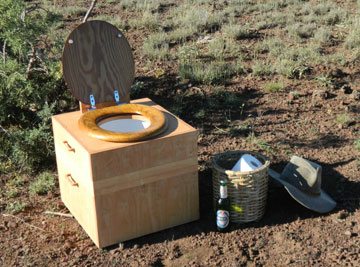 Shown below at a 12 x 32 off-grid cabin: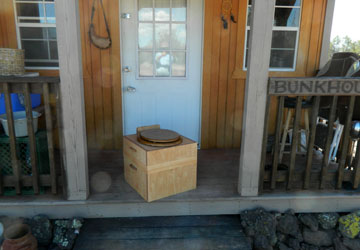 On the steps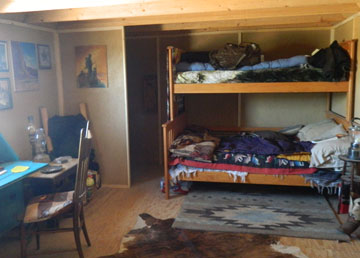 See place for private potty alcove at left rear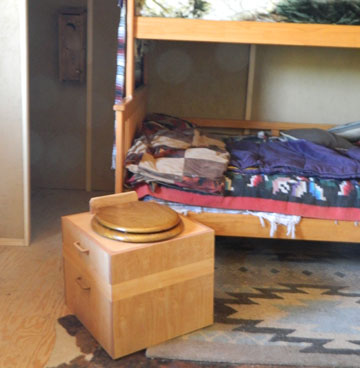 Shown next to alcove for scale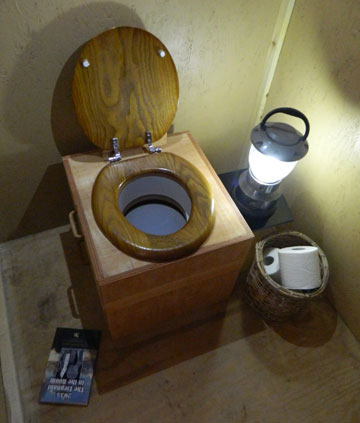 In use in a cabin - toilet paper, lantern and book not included.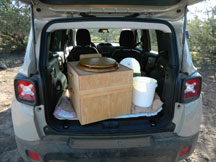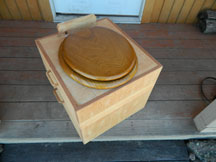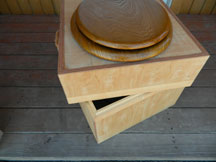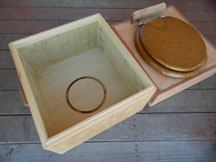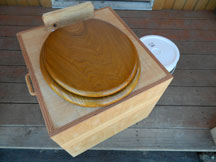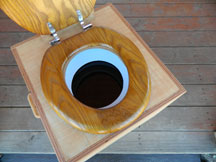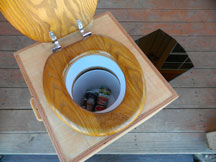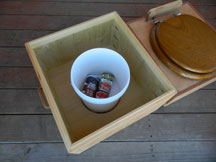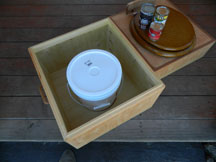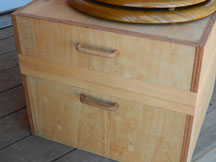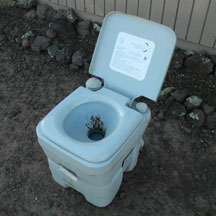 • Easy to transport .. shown in the back of a compact SUV Jeep Renegade.
• Tight fit top and base.
• Circular routed base to hold repository bucket in place
• Back support for
toilet seat lid
• Shown with heavy plexiglas closure/seal in place
• Easy slide plexiglas to open. Plexiglas and receptacle guide is easy to clean if an "oops" occurs.
Large "no miss"opening minimizes any "oops"
• Top of base removes for quick replacement/removal of 2 gallon receptacle. Each unit comes with two - more are cheaply available at any home improvement store like HomeDepot or Loews.
• Sealed handled bucket with supplied lids to dispose or compost.
• Dual handles on both sides of base and top for firm, easy grip.
• Our "no miss" opening avoids smelly messes and clean-up like the cheap plastic camping potty shown at left. They are also impossible to clean correctly and because of their light weight tip over easily.