TO RETURN TO THE HOME PAGE
CLICK HERE


NON-FICTION, COMPILATIONS
AND HISTORIC FICTION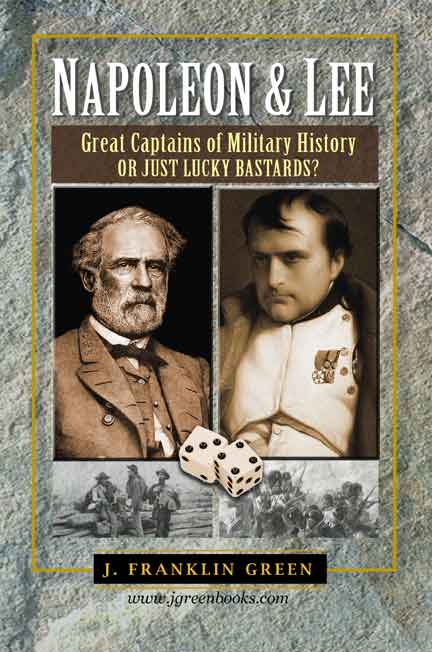 To purchase paperback
NAPOLEON & LEE
Great Captains of Military History
or just Lucky Bastards?

This concise book does not cover every battle or campaign they participated in but instead focuses on those where the dice were tossed -- sometimes recklessly or desperately and what the result was or could have been. Most military historians as well as the public in general consider both Lee and Napoleon to be great commanders. This book examines whether or not that is true.

Written also to appeal to readers who have only a general interest in history as well as those who have read extensively.

Copiously illustrated with custom maps, photos and vintage illustrations.
Size: 6" x 9" - 76 pages – 14,000 words.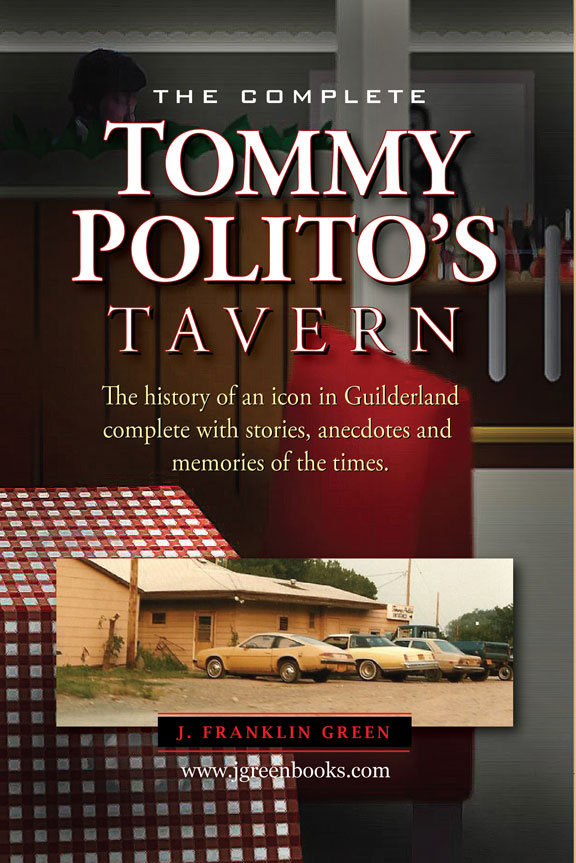 THE COMPLETE
TOMMY POLITO'S TAVERN
This is a story of a town the way it was and never will be again. It was a tavern, like thousands of others across America that shaped many a memory and many a life.

It is also the story of a man, long gone but never forgotten.
Parts of this book originally published
in the novella Tommy Polito's Tavern and
A Baby Boomers History of Guilderland, NY
- Volumes One and Two.
114 pages
Including many vintage photographs.
This book also includes the original
novella Tommy Polito's Tavern -
Published in 2016.
Fiction and non-fiction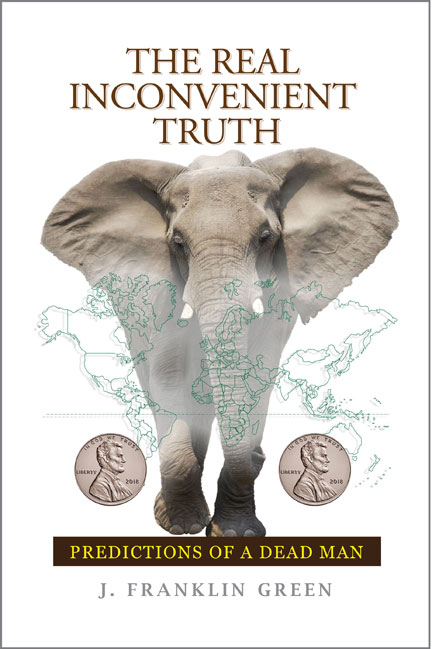 THE REAL INCONVENIENT TRUTH
POLLUTION, GLOBAL WARMING, DISEASE, WAR, FAMINE, CORRUPTION, GENETIC DEFECTS, DECAYING URBAN AREAS, AND RELIGIOUS ZEALOTRY.

These are only a few problems facing humanity
today but are they the largest or most terrifying?
Most were predicted and the cause identified over a half century ago by a man long dead.

Long before computers, the internet, social media and the technological explosion of the 21st century he cataloged, graphed, spoke and wrote about it.
62 PAGES
Heavily illustrated with charts and graphs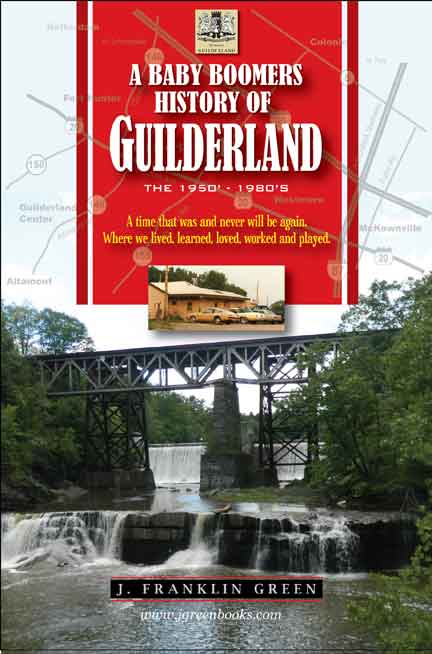 EXCLUSIVLY FROM LULU PRESS CLICK HERE
Faded photographs, covered now with lines and creases, tickets torn in half, memories of times and places…
INTRODUCTION
The town of Guilderland has a long, rich history dating even before its incorporation in 1803. This well documented. For those interested, Images of America – Guilderland, NY by Alice Begley and Mary Ellen Johnson is a good read.
For the baby boomer generation however, the town holds a different history, not covered in any textbook. We did not consider it history at the time because we were living in it. Places we lived, loved, learned, worked and played, taken for granted, as though nothing would ever change. Those days from the 1950's to 1980's, were times of great change, not only in the culture of America, but also as reflected in the town.
The town of Guilderland, a mostly rural suburb coupled with the hamlet of Guilderland Center and the village of Altamont, nestled quietly between Albany and Schenectady. McKownville, Westmere, and the eastern part of the hamlet of Guilderland proper, closest to Albany saw the first rise in housing developments. Altamont was a self-contained village. The town was just beginning to move into full suburban mode. Crowing roosters, farmer's fields, road stands and empty fields, streams and woods, replaced by ice cream shops, diners, bowling alleys bars, burger joints, housing developments and schools. To coin a phrase, it might have been be called – "burbrural."
Like much of history, it didn't last long. Pictorial evidence is scarce. What little there is resides in old photo albums or shoe boxes. And in this book. The day of digital images from cameras, phones or tablets was decades away. Who gave any thought to snapping a photo of Carvel, Frosty, The Penguin or Dutcher's ice cream? We ate, drank and caroused at Fonda's, Hopper's, Tommy Polito's, Dell's, The Late 'n' Lazy or the Village Drummer. Take photos? – no way.
Few pictures taken, because little thought was put into these and many other places that filled our lives and memories. If photos are scarce, memories, stories and anecdotes remain. The photos and stories garnered from many sources. Some from the author's personal archives, others from the Facebook page – You know you're from Guilderland when… Many are from people, like the author, who grew up in town and in some cases still reside there or nearby. Photos may fade but memories remain intact - for the most part.
Please enjoy the walk…
CONTENTS
INTRODUCTION
GUILDERLAND
WESTMERE
FORT HUNTER
McKOWNVILLE
GUILDERLAND CENTER
ALTAMONT
--------------------
APPENDIX
ACKNOWLEGEMENTS
122 pages 6" x 9"
with many photographs and maps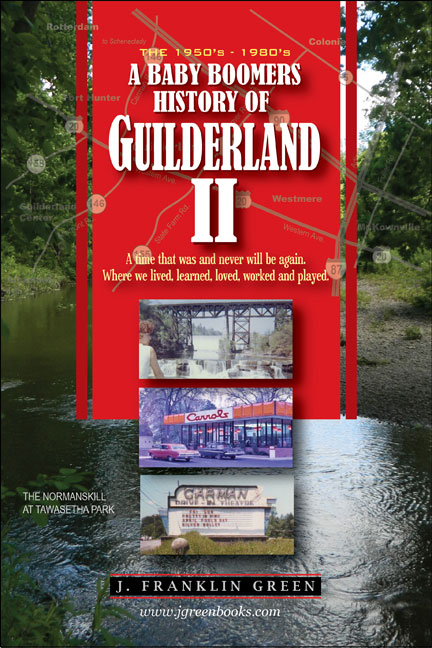 AVAILABLE EXCLUSIVELY AT LULU PRESS
TO ORDER CLICK HERE
This book is the requested sequel to the well-received original volume: "A Baby Boomers History of Guilderland" published in 2017. New stories and new photographs. In contrast to the first book, this one focuses more on personal memories than geography and landmarks. The first volume had 34 contributors of stories and graphics. The one has over 60!
Places we lived, loved, learned, worked and played, taken for granted, as though nothing would ever change. Those days from the 1950's to 1980's, were times of great change, not only in the culture of America, but also as reflected in the town. Like much of history, it didn't last long.
In addition, it has a lengthy chapter about The Guilderland Players at Guilderland Central High School.
154 pages 6" x 9"
with many photographs and maps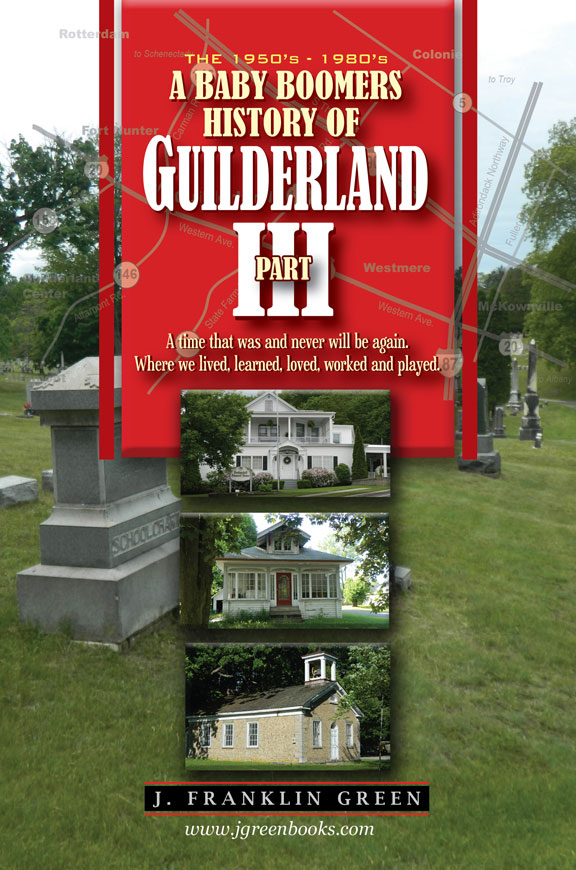 This book is the last sequel to the well-received books, A Baby Boomers History of Guilderland, and A Baby Boomers History of Guilderland Part II published in 2017 and early 2018. Unlike the first two volumes, this isn't organized by sections of town because much of that was covered previously. People who contributed stories, anecdotes and photos (see appendix) are in individual sub-chapters. I have found or been given much new material covering the way it was, the way it is now, the way we were and where we are now.
CONTENTS
INTRODUCTION
THE WAY IT WAS
AROUND TOWN
THE WAY WE WERE
SCHOOL DAZE
WHERE WE ARE NOW
--------------------
APPENDIX
ACKNOWLEGEMENTS
NOTES
136 pages - loaded with photos.
--------------------------------------------------------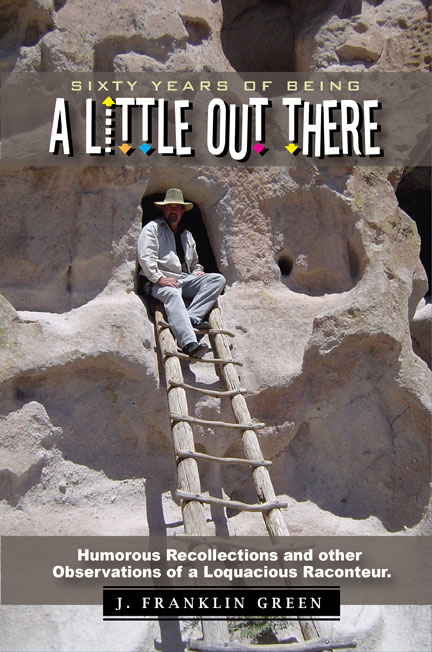 TO PURCHASE
CLICK HERE
CONTENTS
INTRODUCTION
I STARTED OUT AS A CHILD
MONASTIC COLLEGE
ALCOHOL IS MY LIFE
BEING MARRIED, MARRIED & MARRIED
ON HAVING KIDS – OR NOT
CANINE COMPANIONS
BATHROOMS OF AMERICA
HUMOR IN UNIFORM
MEET THE NEIGHBORS
POLITICS AND OTHER FORMS OF INSANITY
COMMUNICATION IS THE PROBLEM TO THE ANSWER
GETTING OLDER SUCKS
RANDOM EVENTS
APPENDIX
(I STILL HAVE MINE BUT IT
HAS NOTHING TO DO WITH THIS)
INTRODUCTION

THE TITLE of this book originated from a conversation I had with my eldest son a few years back. A widower late in life, I remarried and my two young adult sons acquired a stepmother. Soon I noticed that when they called home, they most often called my wife instead of me. When I asked my oldest son why that was, he responded, "No offense dad, but you can be a little out there." He went on to say his stepmother, Wendy, was more down to earth and more able to answer his more practical and straightforward questions without drifting off topic or launching into a story he had heard countless times before. Thinking about this, I realized he was right.

My father, in his older years, had been much the same way. He had a story for every conversation and every call I made to him invariably went back in time, ending often with the mention of his favorite car – a 1949 Dodge with fluid drive. Dad would then pontificate on the reasons the auto industry perfidiously buried that particular transmission design. He too, was a little out there and even though he couldn't remember what he had for breakfast, stories from thirty or forty years ago flowed freely. A ten-minute trip to the supermarket for three items took him at least an hour. He was a gregarious sort whose motto as eventually put on his grave in 2011 was, "Who'd you meet along the way."

Two months before the end of his life, his body and mind failing, I had the opportunity during one of his lucid moments to tell him face-to-face what a great dad he was and rattled off a long list of things we had done together. His response was, "How do you remember all that shit?"

The apple didn't roll too far from the tree.
112 pages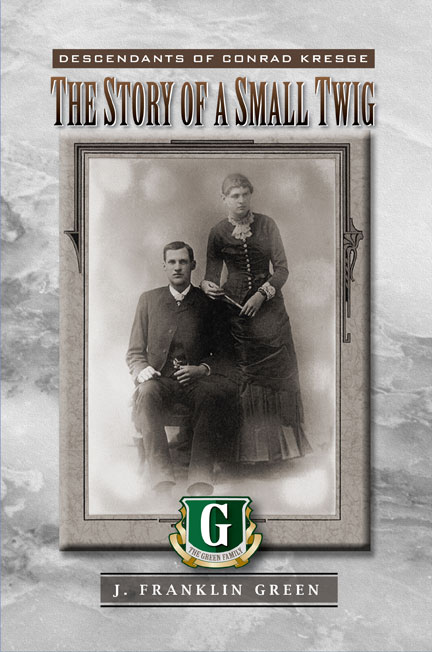 TO PURCHASE
CLICK HERE
DESCENDANTS OF CONRAD KRESGE
THE STORY OF A SMALL TWIG
This is the story of two families. One founded an empire that at one time was the second largest retail store chain in North America. The other, a very small twig of that family tree, "scattered like a hand grenade," all over America. The first family became obscenely rich. The other has a few nickels to rub together but is rich in experiences and travels.

We are all descendants of Conrad Kresge who came to America in the 1740's. His great-great grandson, Sebastian Sperle Kresge, founded the S.S. Kresge Company in 1897 in Memphis Tennessee. His stores proliferated throughout the 20th century, eventually becoming Kmart, in 1962. Its rise and fall told from that time, until its predicted demise in 2018.
Their story parallels a unique time in American history starting near the beginning of the 20th century. Inventions like the automobile, telephone, airplane, phonograph, radio and motion pictures that would shape the coming century were in their infancy. Great industrial giants like, General Electric and the American Locomotive Company were coming into being following in the footsteps and eventually eclipsing the likes of the Rockefellers, Carnegies and Astor's. America itself was growing and transforming from a mostly rural country to one of urban and suburban epicenters of new business empires. The people of America, both old stock and immigrants were changing and adapting to the new order of things – and perhaps things to come.
120 pages
with many photos
------------------------------------------------------------
CONFESSIONS OF A GRAPHIC DESIGNER
TO PURCHASE
CLICK HERE

Surviving and thriving in the graphic design, illustration and advertising world 1975-2016
Memoirs and a guide for those who are in the business, about to enter the business and those even thinking about entering the business.

This book also contains practical tips and advice from a professional creative director, art director, designer, illustrator and business owner for over forty years.
PLEASE NOTE:
All of the examples in this book reproduced
in black and white because of the budget constrictions of
"print on demand" paperback books.
If you want to see color, renditions
and much more please visit:
www.creativecolleagues.com
154 PAGES heavily illustrated
--------------------------------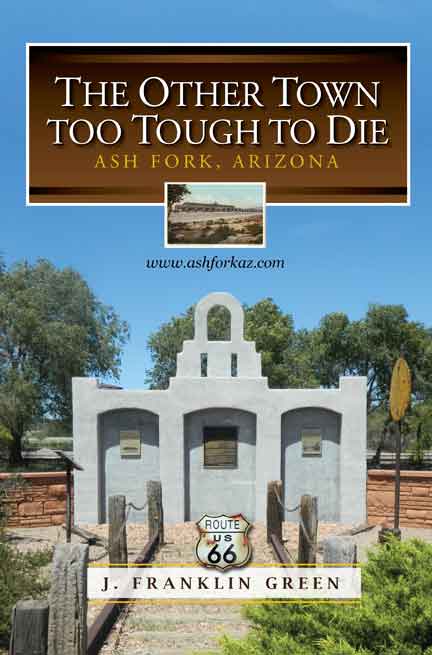 EXCLUSIVELY AT LULU PRESS
CLICK HERE
In its time Tombstone, Arizona was indeed a tough place, rowdy and lawless for the most part until the Earp brothers, Wyatt, Morgan and Virgil came to town. Whether they cleaned up the town or simply cleaned up financially, has been the subject of countless books, articles and essays. Regardless of those controversies, the Earp's along with Wyatt's friend Doc Holiday, a disreputable character in his own right, did take part in the famous "Gunfight at the OK Corral." Many considered it more of an ambush or murder, but that is outside the scope of this book. It lasted eighteen minutes. Since then, the event and the participants (dead or alive) have been the subject of countless movies, television dramas, and books. Today, it is now reenacted, almost daily and businesses throughout town are devoted to the legend.
If that single event warrants the nickname "too tough to die," so be it. However, there are other definitions of tough. Hard work, grit, sweat, perseverance, determination, adaptability and survival also define that word.
If so, Ash Fork deserves the name tough, for it has been exactly that for far longer. It was, and still is, tough because of all of the hardships, economic booms, busts and catastrophic fires in 1893, 1905, 1977 and 1987 it has endured. And that in an area of geography that is just plain tough to live on. Good times always followed by downright hard times, but the people have carried on to this day.
CONTENTS
INTRODUCTION
EARLY HISTORY
THE GREAT WESTERN ROAD
THE RAILROADS
THE ESCALANTE
THE RANCHERS
THE MOTHER ROAD ROUTE 66
THE TOWN TODAY – TOUGH AS EVER
NEW RESIDENTS & OFF-GRID LIVING
90 pages
with many illustrations and photographs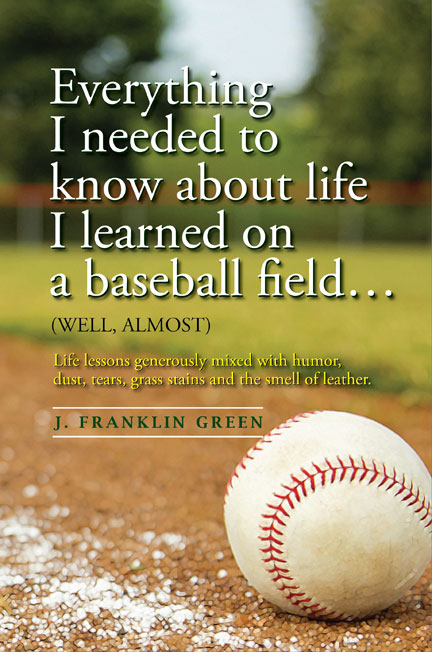 Everything I needed to know about life
I learned on a baseball field…
(well, almost)
Life lessons generously mixed with humor,
dust, tears, grass stains and the smell of leather.
74 pages
---------------------------------------
HISTORIC FICTION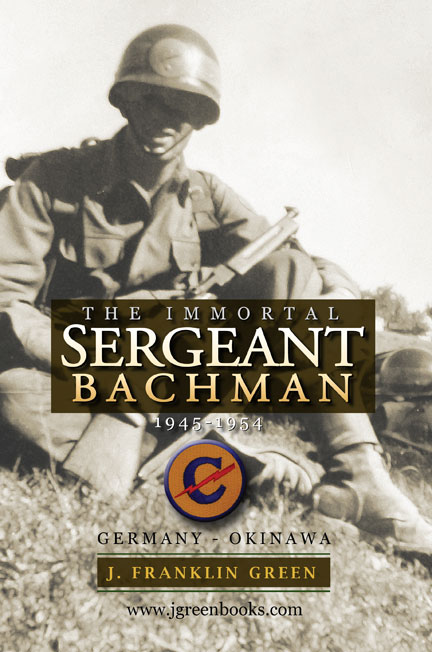 TO PURCHASE PAPERBACK
CLICK HERE
ALSO ON AMAZON KINDLE
CLICK HERE
THE IMMORTAL
SERGEANT BACHMAN
From Germany to Okinawa 1946-1953
When traditional methods fail, a man searching for information about the father he never knew and listed as K.I.A. by the US Army in Korea turns to other means and embarks on a fascinating but frightening journey.
A slightly fictionalized story based on
true stories from the journal of an American service man 1945-1953 - The author's father.
--------------------------------------
The Appendix also offers the history
of the Constabulary in Germany and the revolt
at Geoji (Koji) Island during the Korean war.

Although this is partially a work of fiction, the historical references are accurate and many of the events and details are based on true stories and memoirs, found in a detailed journal that I inherited from my late father John L. Green Jr. upon his death in 2011. Of course, the opening and ending framing device is also fictitious as are the names of the main characters. In this journal, my father never disclosed the true nature of the mission to Manchuria, if he even knew it nor did he ever speak of it to either my brother or me, a testament to his ability to uphold his reputation as "a man who can keep his mouth shut." Likewise, the shooting on the Czech border was something he spoke about only in general terms and only to my brother when he was very old. The one love scene regarding him and my mother is also entirely fictitious - I think. His views on the military, sometimes very cynical, and especially regarding the officers and men I heard many times as a boy.
112 pages
Novella size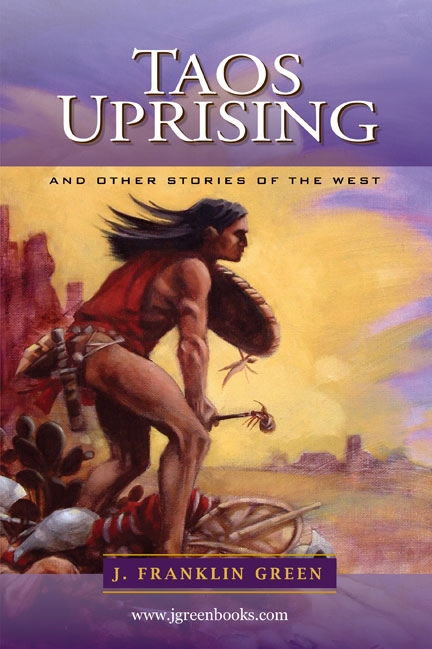 TO PURCHASE
CLICK HERE
TAOS UPRISING
AND OTHER STORIES OF THE WEST

John Franklin Green and Edward C. Hartshorn
TAOS UPRISING
Set amidst the true story of the revolt in Taos, New Mexico in 1680, a young man of the Pueblo, counseled by his grandfather,
Eah Walla must decide what a man should do.
***
THE LAST GUNFIGHT IN ASH FORK
Young Jordie Conboy learns that legends and heroes
are seldom what they seem.
***
THE STRANGER
In the end, everyone left Angel Rock - one way or another. None would ever forget how the first death came - swift and without warning on the first night a stranger rode into town.
APPENDIX
Includes a detailed history of the New Mexico revolt
and a brief history of Ash Fork, Arizona
-----------------------------------------------------------
PHOTO BOOKS AVAILABLE NOW: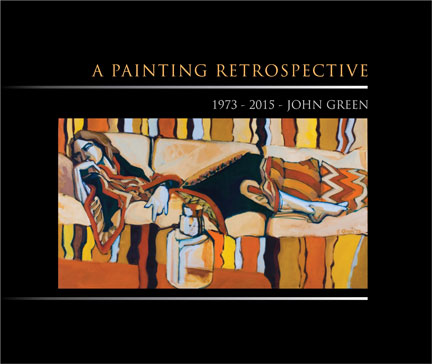 CLICK HERE TO PREVIEW OR PURCHASE
This volume contains a limited sampling of work from the period 1972-2015.Some show roots in New York and some in the Southwest: Arizona and New Mexico. Some from the 70's have no roots at all. Wadda surprise. Make of them what you will. I just make them. Some thematic explanation is offered inside.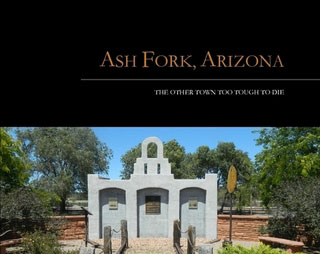 CLICK HERE TO PREVIEW OR PURCHASE
A concise photographic look at Ash Fork,
Arizona and surrounding countryside. A
companion piece to www.ashforkaz.com
and the book: "The Other town Too
tough to Die." Filled witH landscapes,
town images, maps and wildlife.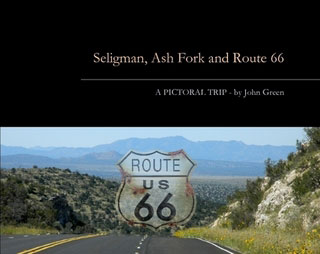 CLICK HERE TO PREVIEW OR PURCHASE

A pictorial trip along historic route 66 through
Ash Fork, Seligman, Peach Springs, Valentine,
Truxton and Hackberry.

h

READER REVIEWS:

A BABY BOOMERS HISTORY OF GUILDERLAND, NY

I must say that I am immensely enjoying the baby boomers history of Guilderland. You included my great grandfather and great grandmother (Pop Carpenter whom we referred to as Bomboo), my grand father (Ralph Carpenter) and even my best friend and his mother (Billy Wright and Gerda). Even my kinder garden teacher was mentioned. Most of my friends and family have or are getting copies to keep for themselves. Nice job!

Chip Carpenter

----------------------------------

THE STORY OF
A SMALL TWIG

Great read for the business and/or history buff alike. The rise and fall of one of the greatest retail chains is detailed beautifully here. It answers a lot of the "what ever happened to..." questions regarding many of the brick and mortar stores we grew up with. It also delves into the elaborate family history ("Twig" from the family tree") and evolution of the stores with plenty of personal anecdotes and some old print ads which I loved. I purchased a second copy for a colleague with long family history in retail knowing he would enjoy it as much as I did.

By Laurel Whitney

CONFESSIONS OF A GRAPHIC DESIGNER

As a new author, I want to learn all I can about graphic art and how I can implement designs, fonts., etc. to make good-looking covers. This book gave me an adequate and easy-to-understand explanation of several techniques I can employ while giving me a great and often humorous narrative to enjoy.

Carmen Baca

Nov 4, 2018

--------------------

THE OTHER TOWN TOO TOUGH TO DIE

I sat down last night and read "The Other Town Too Tough to Die" and really enjoyed it. It now rests in my library with my other Arizona collection of books. I rarely get behind the mic without telling at least one story about Ash Fork. It had more characters than Damon Runyon could conceive. I hope our paths cross again.

Marshall Trimble

Arizona State historian (retired) author, entertainer.




NAPOLEON & LEE

I reviewed this concise but well written book yesterday, it is very good, does not have to go into details that historians are used too (I am a German military historian), but is to the point to raise some great issues that run contradiction to mainstream thoughts. That in itself make it a good book. It makes you think. This is called critical thinking. John Green is also a well published author of a great array of books, and an avid wargamer.

Donald Vandergriff

Mar 1, 2020

TAOS UPRISING

Last night I finished Taos Uprising, a collaboration by our John Green and Eddie Hartshorn. Though stories of the old west, these aren't your stereotypical shoot-em-up cowboy stories. The first story "Taos Uprising" is a fictionalized account of the revolt of Pueblo Indians against the Spanish in the late 17th century and is rich in detail and filled with plenty of family and community drama. The attack itself is well-written and fun to read (if you like this sort of thing). The middle story,

"The Last Gunfight in Ash Fork" by John Green is the passing on of that story from one generation to the next and told with such deftness it's like hearing the story being told.

The final story "The Stranger" by Eddie Hartshorn is novella-length and draws a picture of a western town visited by a stranger who is never named, but by the end of this morality tale he learns as much about himself as we do about life in the old west.

What makes this book also worthy of being placed in the reference section of your book shelves, is that it contains an appendix with a history of the Pueblo revolt and a history of Ash Fork, Arizona. There are pictures and drawings included on some of the pages that helps bring the stories to life.

-- Steve Carr

THE IMMORTAL SERGEANT BACHMAN

Mar 28, 2017
The Immortal Sergeant becomes an endearing character in J. Franklin Green's account of military fiction based on fact. As a student of history, I found the dialogue and interactions between officers and non coms true to life (my husband, a former Marine, concurs). The love story interwoven between the military one brings Bachman to life as a real human being finding love in an unexpected place while questioning his role as a military pawn. The combat scenes offer a personal look into how these men interacted with one another in times of great peril and stress.

Overall, I found the book engaging, one I'll probably re-read as I do with my favorite books.

The historical photos combined with the appendix also make this an excellent addition to my collection of military literature.


Carmen Baca,
author of El Hermano

------------------------------

I have to admit I approached this book with some skepticism. Military novels by people who have not served in the military have generally disappointed me. They lack reality that only us veterans can feel. Not this one!! This one grabbed my attention from the first page.
I could not stop reading it and consumed it, finishing it in less than 24 hours.

This was my first J. Franklin Green book and I loved it. This book is highly recommended. Proudly Served - Berlin Brigade.

Edward Fasset Jr. -
August 28. 2017