Cowboy
on the Range Way™ Holsters




click on above for more information, pricing or to order
Most common gun types I make holsters for:
1. Single action Colt (and clones) revolvers 4 3/4 - 8" barrels (base Cowboy on the Range Way design)
.38 - .357 - 45 - .44 calibers
2. Ruger Single Six type Single action .22 caliber revolvers 4 3/4" - 6" barrels
3. S&W K frame size double action revolvers 2"-6" barrels
.38 - .357 - .45 calibers
4. S&W J frame size double action revolvers 2"- 4" barrels
.22 - .38 - .357
5. Bersa Thunder - Walther PPK, Makarov size
.380 - 9mm caliber
6. Browning Hi Power - CZ 75 - Colt 1911 (and clones)
9mm - .45 acp
7. Ruger Bearcat .22 caliber 4"
8. S&W 5906, SD9, Glock 17, Ruger p40 and similar size automatics 9mm - .45 acp
9. S&W Governor/Taurus Judge 3" .45 long colt/.410 shotshell
Some options include: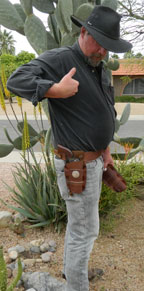 See us on ebay
just search:
ccolleague6722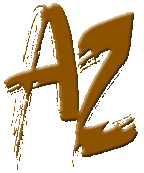 Made in the USA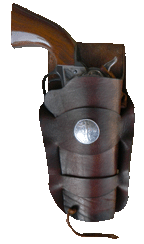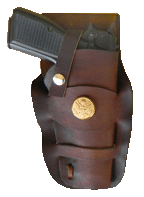 © 2012 myfambly.com
www.myfambly.com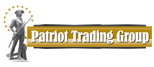 Patriot Trading Group

to see holsters available for sale NOW click here or any image below.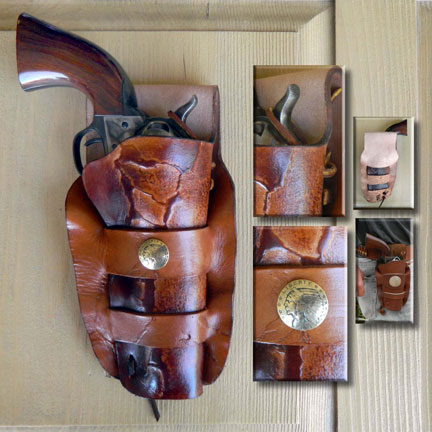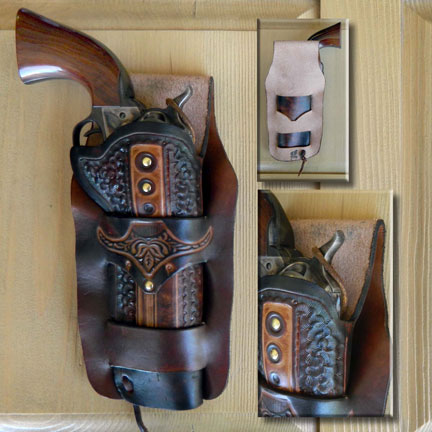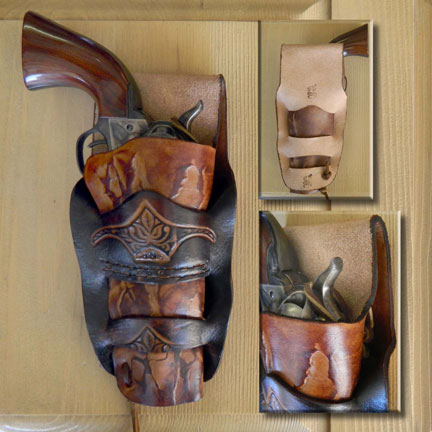 Holsters are a newer form of "functional art" - much like pottery and baskets. Form must always follow function and the holsters above fit well in any western decor room AND just as well on your hip, ready for action! All are unique, hand tooled, dyed and wet molded to form. Above are some of my earlier designs.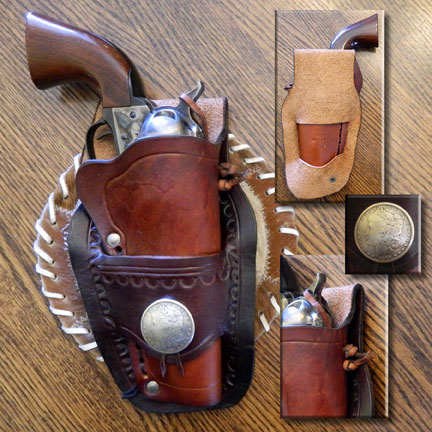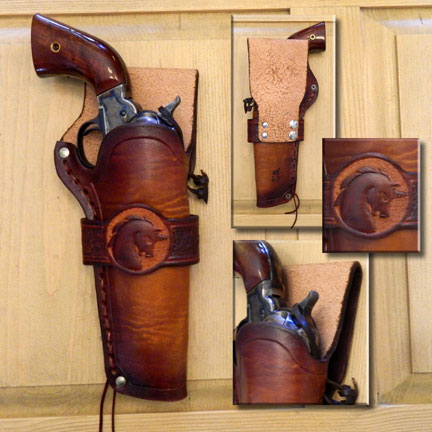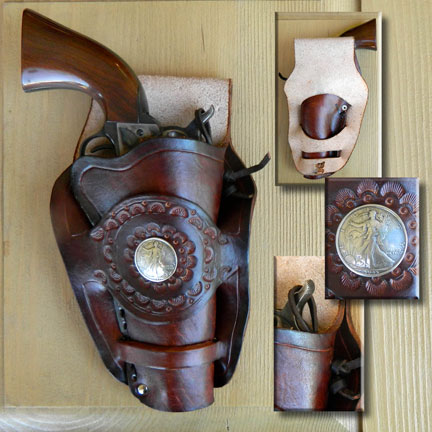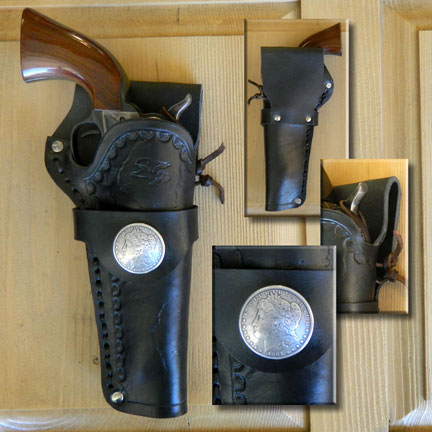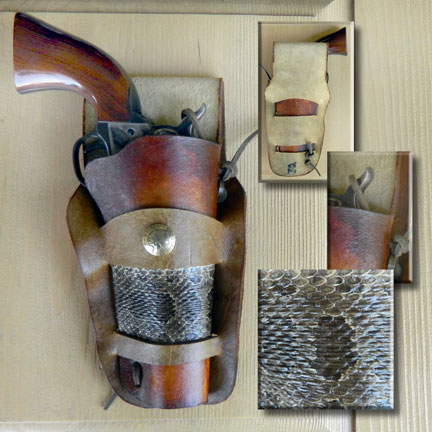 Colt style Single action revolvers - natural textured cowhide.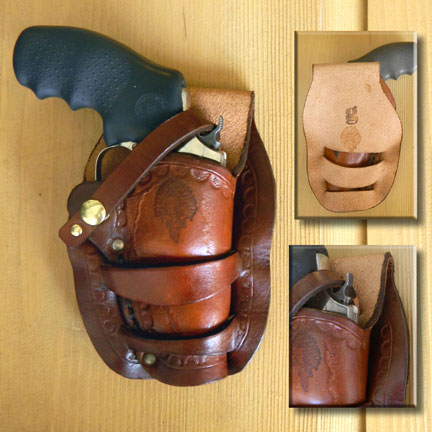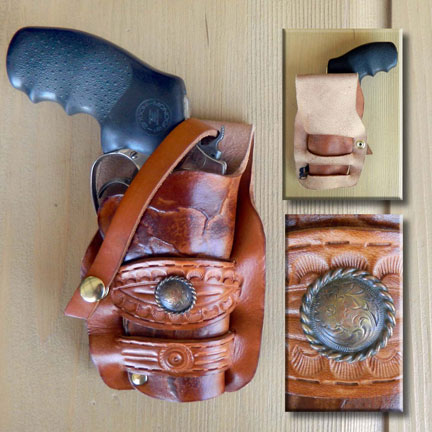 S&W J frame size revolvers
front side bullet holders for a .357 Smith and Wesson model 65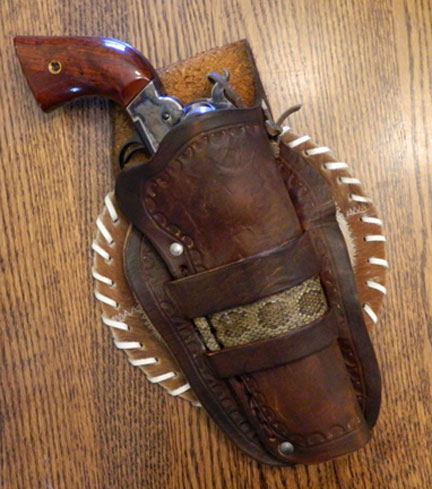 custom for "Rattlesnake Jake Curry" made to look vintage
1870's for film work .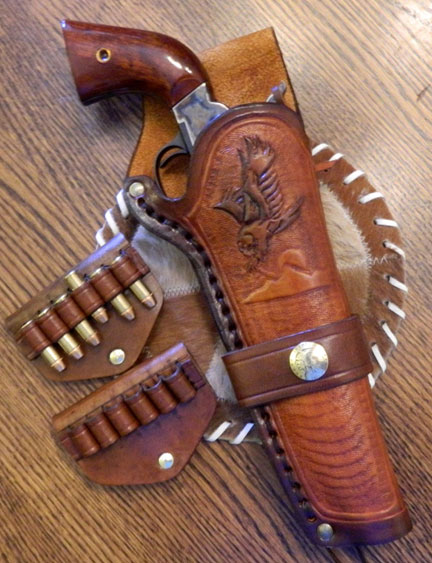 hand tooled diving hawk design for a Ruger Blackhawk with a 7.5" barrel - shown with a 7.5 Remmington Outlaw.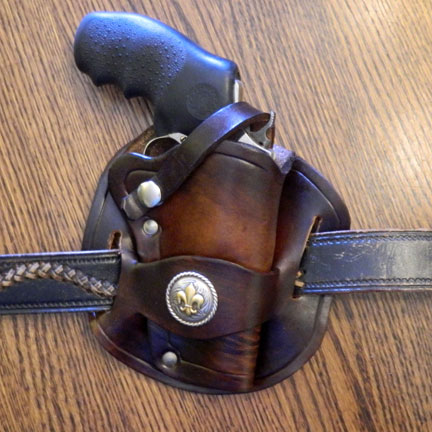 This design can be worn cross draw off side, high ride concealment strong side (shown) or strong side forward presentation. Made to fit a S&W model 36 J frame 5 shot revolver.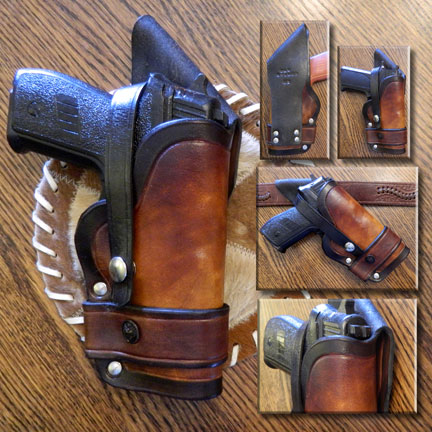 Extreme Cross Draw designs ride easy and high for comfort and easy draw. Below show other sizes and styles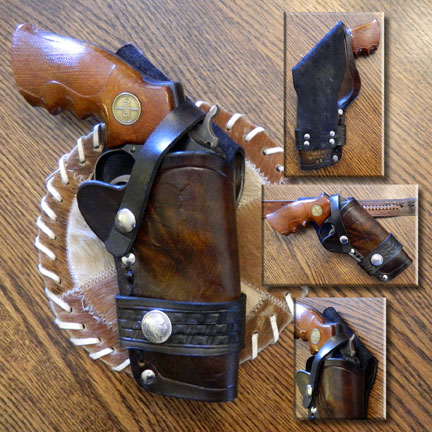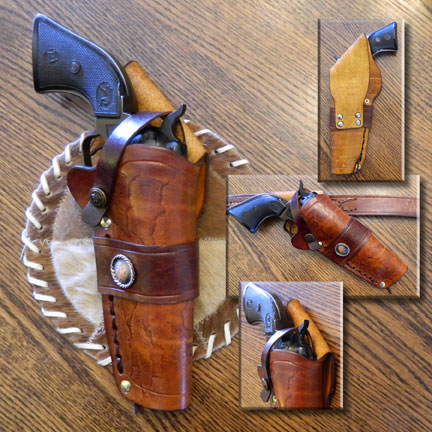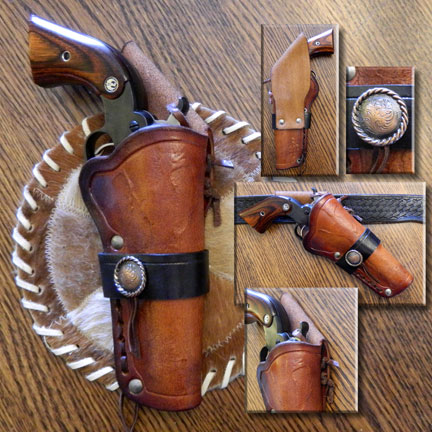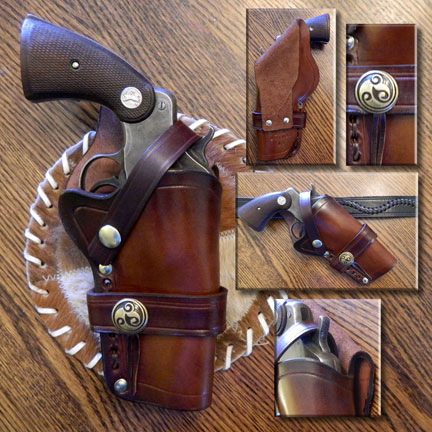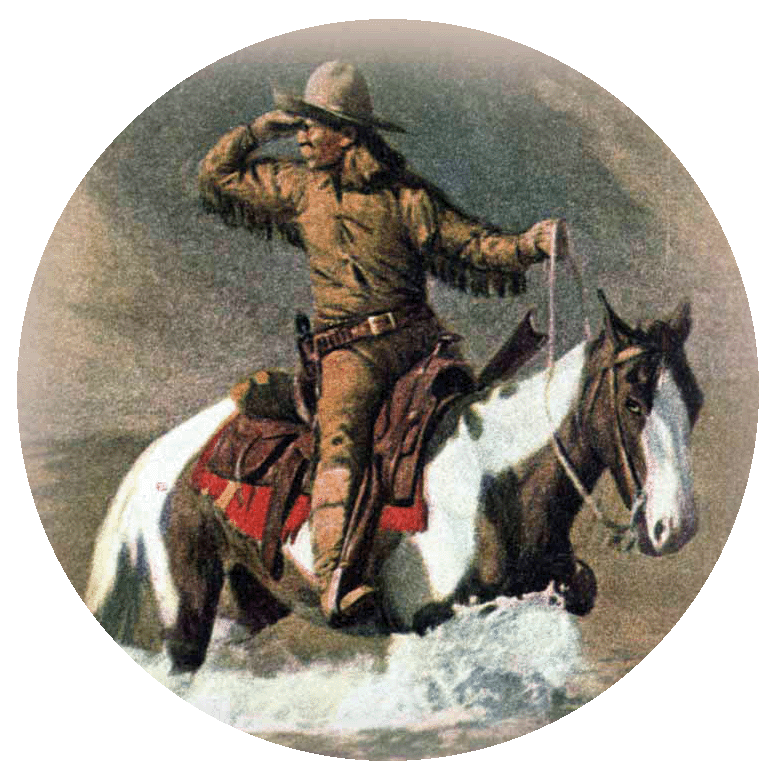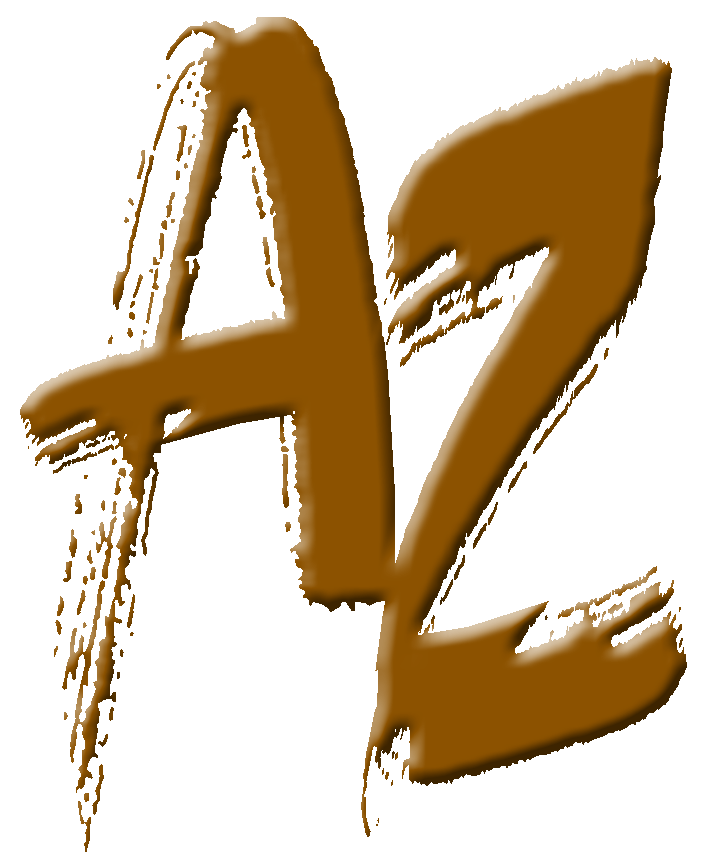 Customer feedback:
____________________________
"hey old gringo, i wore the holster with my S&W 15 over the weekend on the harley. it is perfect. i didn't know it was there. thanks again".
ftw ed
____________________________
"Received the holster and it came out excellent...thank you. I'll be in touch," Jason MT
____________________________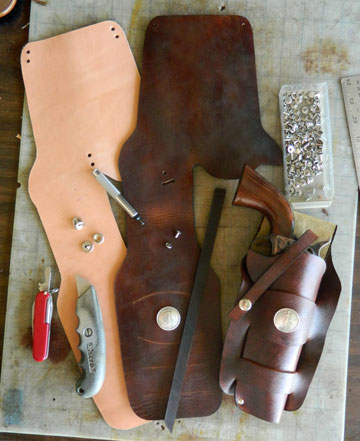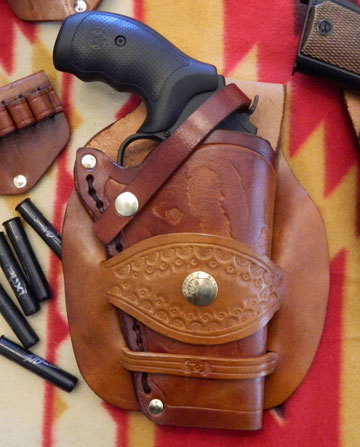 To fit Taurus Judge or S&W Governor based on one of my J frame designs.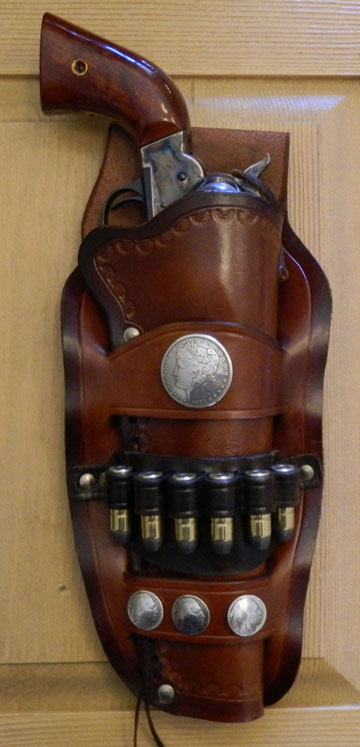 one of my more exotic designs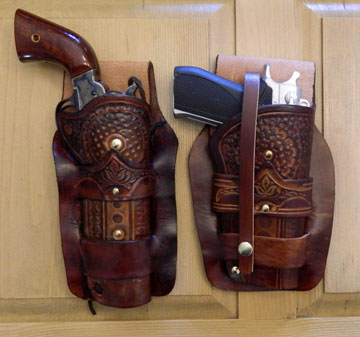 Matched pair-
on the work bench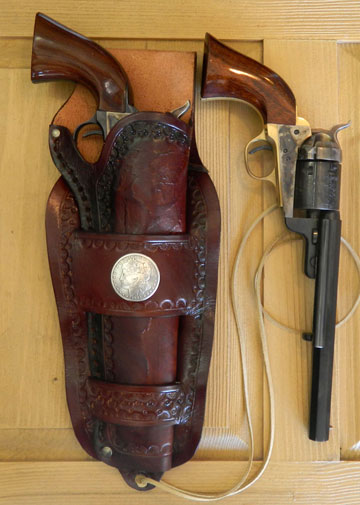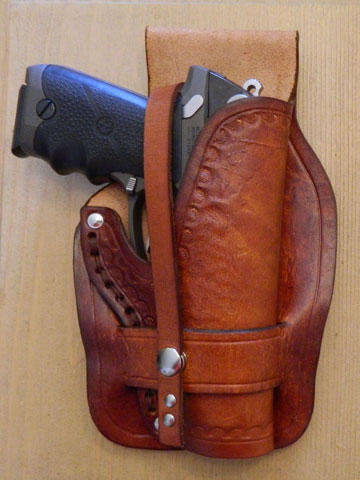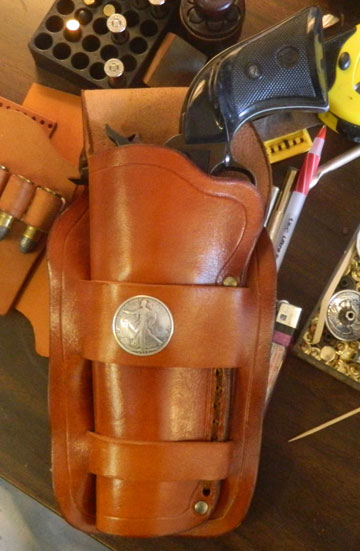 i only did left handers for custom orders - this one for a great artist and rancher in Montana - and a real lady too!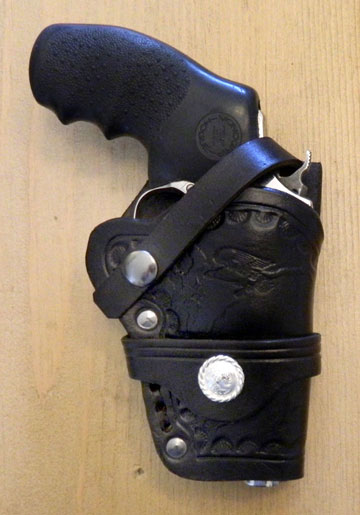 this one featured a back strap with a snap to accommodate a hollywood style slotted belt.