Ash Fork, AZ
The other Arizona
town too tough
to die.
UPDATED 9/19/19
The longer I live part time in Ash Fork, the more I appreciate and love the twn and the area. I used to just pass through town on the way to the cabin but after reading Marshall Trimble's book on the history of the town I wanted to explore it a bit more in depth. Mr. Trimble is the Arizona State historian and coincidently was raised in Ash Fork.
I have recently added a page for nearby Seligman which is about 22 miles west on "The Mother Road" - Historic US Route 66. When not visiting friends in Ash Fork, I often take the pretty drive out historic 66 to Seligman to pass a pleasant afternoon. I have met tourists from all over the globe there.
Click on either navigation bottons below to go there or return here:
The above Seligman link
also includes a little
of Dewey-Humboldt, Mayer and west on
Historic Route 66
Ask Fork 2016
Pioneer
Days Celebration
and Parade

(click here)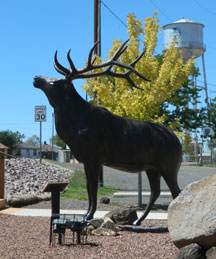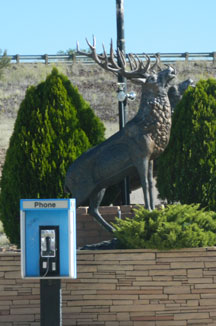 Elk are a popular icon for the town and for good reason. Above is a sculpture that is in front of the library with the old, and no longer used Santa Fe Railroad water tower. Below that is at Murphy's Trading Post with another I suspect unused relic - a pay phone!
Below is a link to the author's place in JWR North.
GREEN HILL RANCH

CLICK HERE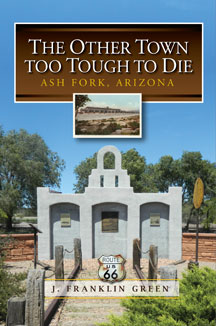 A concise history of Ash Fork from 1800-2017
Above is one of two new books set in Ash Fork.
CLICK HERE
FOR MORE
INFORMATION
OR GO TO: www.jgreenbooks.com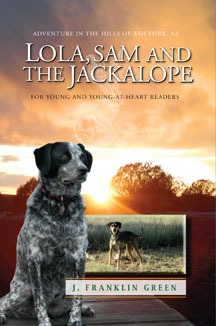 -----------------------------
Below is some information from the Ash Fork, AZ Historical Society and Museum:
www.ashforkrt66museum.com
Ash Fork Local History
Ash Fork, Arizona, has been a thorough way for humans since early man roamed the North American continent. Throughout the region there is evidence of primitive civilizations. Pottery shards, arrowheads, and pictorial writings on rock have been found in abundance in the area around Ash Fork, AZ.
Spanish conquistadors came close to this area as they searched for the "Golden City" in the late 1500's. Fur trappers and traders passed through Ash Fork on their way from Santa Fe to Los Angeles. Around this same time, Captain Lorenzo Sitgreaves and Lt. Amiel W. Whipple, United States Army Corps of Topographical Engineers, began to survey the 35th Parallel for a proposed railroad.
Beale Trail
Because of its strategic location, this area would continue to attract people's attention. After the Mexican-American War in 1848, Congress sent a number of expeditions to the Southwest to explore the area. With the information provided by these expeditions, Congress commissioned the southwest's first federally funded interstate road to be built through the heart of the new lands to California in 1857.
Edward Fitzgerald Beale, a retired Navy Lieutenant, brought twenty-two camels (from the Middle East) loaded with supplies and tools for himself and his crew of 50 men. Although these animals were very effective as packing heavy loads across the dry, rocky landscape, they did not meet with positive acceptance from the muleskinners who saw the animals as "foul-smelling, evil tempered , and ugly." These beasts trudged across northern Arizona as Beale and his crew cleared a 10-foot wide track and pushed the rocks to the side to allow wagons to travel on the track.
In the end, this road provided a serviceable route (1,240 miles) for immigrants and stockmen from Ft. Smith, Arkansas, to the Colorado River for $210,000 until the construction of the Atlantic and Pacific (Santa Fe) Railroad in 1883. It is interesting to note that the Santa Fe Railroad, Route 66, and Interstate 40 all, more or less, follow the Beale Road which affirms Beale's ability as a "pathfinder" and the value of the route he pioneered.
Visitors can retrace Beale's steps north of Ash Fork near Russel's Tank as they linger over a picnic lunch. Russel's Tank was a popular stop for pioneers along the Beale Road because of its cool, clear water and plentiful wildlife.
-----------------------------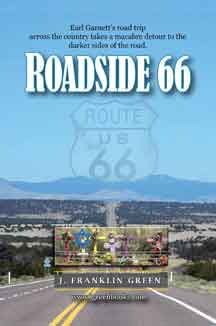 STARTS AND ENDS
IN ASH FORK
Following the premature death of his wife, Earl Garnett, a professional writer, decides to drive across America. Along the way, he discovers the country, as he never imagined it. Soon, cryptic writings appear on his laptop, often coinciding with roadside memorials that lead him into the darker sides of the road. Ultimately, he must decide whether or not to follow the prompting of these haunting passages and accept the consequences.
CLICK HERE
FOR MORE
---------------------------
Santa Fe Railroad
The Civil War had delayed the transcontinental railroad across northern Arizona for several years. When construction began in 1881, towns began to sprout up along the Atlantic and Pacific (Santa Fe) line.
In 1881, construction began on the transcontinental railroad across Northern Arizona. Building a railroad across this region of deep canyons, rugged deserts, and rocky plateaus was no easy task. Marshall Trimble, Arizona State Historian, once wrote that the railroad went ahead and built the line anyway, with switchbacks and lazy loops and more kinks than a cheap lariat.
When the Santa Fe Railroad moved its main line north and away from the town in 1960, Ash Fork lost nearly half its population after railway business declined substantially, causing most families employed by the railway industry to leave the area.
Flagstone Capital of the World
Another business spearheaded from the railroad industry was the stone industry. Flagstone was quarried for the railroad to build bridges and private industry began shipping stone for public buildings, churches and office buildings.
Ash Fork, AZhas proclaimed itself "The Flagstone Capital of the World", due to the large number of stone quarries and stone yards in and around the town.

In 1882, Ash Fork, AZ was founded with the arrival of the Atlantic and Pacific Railroad. The original stage depot and town site was located near Ash Creek (named for the Ash Trees in the area) where three southerly flowing forks of Ash Creek came together. Soon the town was referred to as Ash Fork.
In the beginning, most of these towns had little in the way of law and order. There were over 350 saloons along 200 miles of track. During Ash Fork's chaotic time, the town organized a vigilance committee to get rid of malicious and contemptible people via hanging from the limb of an ash tree.
The railroad also brought the Fred Harvey restaurant, Escalante, to Ash Fork in 1907.

Route 66
The longest original, uninterrupted stretch of Route 66 still in existence, approximately 92 miles long, can be found between Ash Fork, Arizona, and Kingman, Arizona, beginning just beyond Ash Fork at Crookton Road. This stretch of the route runs parallel to the Santa Fe roadbed.
US Route 66 provided a slight boost to the town's economy in the 1950's, but construction of the divided highway through the town resulted in the destruction of many of the storefronts, sidewalks and residential streets, and forever altered the aesthetic qualities of the downtown area.
Part of what was once Route 66 still runs directly through Ash Fork, serving as a main thoroughfare now known as Park Avenue, along which the community's post office is located. A few historic buildings and some old railroad company houses can be seen along this road.
----------------------
Join our page
on Facebook:
Ash Fork and Seligman, Arizona

CLICK HERE
I will update this web page as time permits and further photos and updates are made.

John Green
10/12/17
Please e-mail any comments
or questions to:
ccolleague@cox.net
click HERE
to return to home page
-----------------
Also see:
www.jgreenbooks.com
Set almost
entirely in Ash Fork:

The Wind in
the Junipers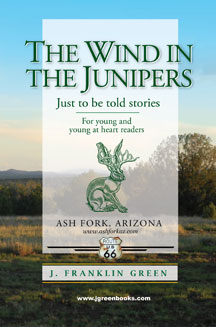 For young and
young-at-heart readers.
CONTENTS

THE BEARAZONA BEARS
A family of bears learns what giving is really all about.

THE LAST GUNFIGHT
IN ASH FORK
Young Jordie Conboy learns from his grandfather that legends and heroes are seldom what they seem.

FEETIE PAJAMAS IN OLD ARIZONA
A little boy's love for his sister reaps an unusual reward with consequences that are unforeseen.

THE LITTLEST SNOWMAN ON ROUTE 66
When her family moves from Ash Fork to Flagstaff,
little Wendee Goldman has a hard time adjusting until she accidently applies a little magic and finds a true friend.

STOWAWAY SUZI FROM SELIGMAN
Jonnie Halloran, a widower raising his 12 year old son Luke gets a big surprise when he returns to their ranch in
Ash Fork.

LOLA, SAM AND THE JACKALOPE
Two dogs who are best friends help a mother jackrabbit and have an unexpected meeting with the mythical Jackalope.
APPENEDIX
A brief history of Ash Fork
Notes on story telling
178 pages/illustrated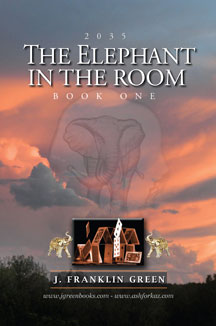 Adam Barthold is a deeply flawed man haunted by the mysterious Arahm Tuit. He travels from upstate New York to the hills of Ash Fork, Arizona where he hopes to start a new life but instead finds love, danger and watches the world come tumbling down in red ruin, little knowing he has an important part to play in the future of human kind.
Although this is an apocalyptic story, you will find NO zombies, alien invaders, government conspiracies, universal plagues or any other such nonsense. It addresses what is a more imminent threat to humankind. Further, it is told from a very limited point of view as experienced by the principal character, Adam Barthold.

Unlike some such story lines, the book focuses more on the characters, their flaws, fortitude and family-like relationships. It is both a love story and a story of deep friendships often crossing over racial, age and cultural boundaries. The action scenes are not stereotypic hollywood hyped depictions either.
276 pages -
Rated R - for mature audiences.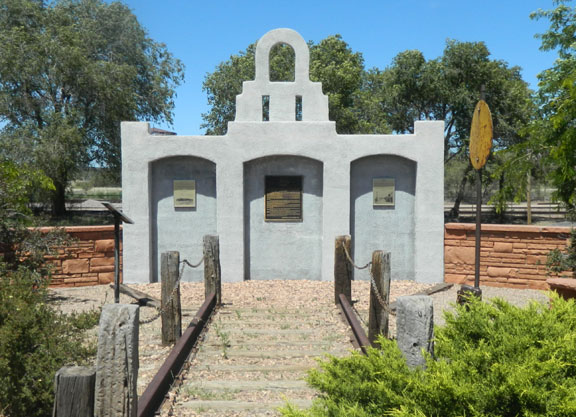 Historical marker for the long gone Escalante Hotel and rail station. Known as the finest Harvey House Hotel west of Chicago. Harvey House Hotels followed the railroads west. Fred Harvey employed thousands of women from the east at a time when jobs for young women were hard to come by. Many came west for the work and to find a husband.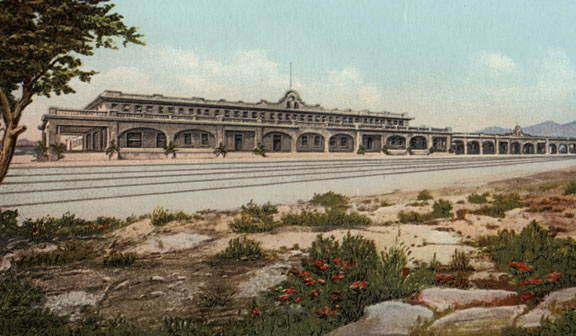 A postcard rendition of the elegant Escalante Hotel I found on the internet.
BELOW: What-Knots - The food bank has been in this location for a long time and serves the community well. The Second hand store is in new hands and has expanded its bargains and visibility.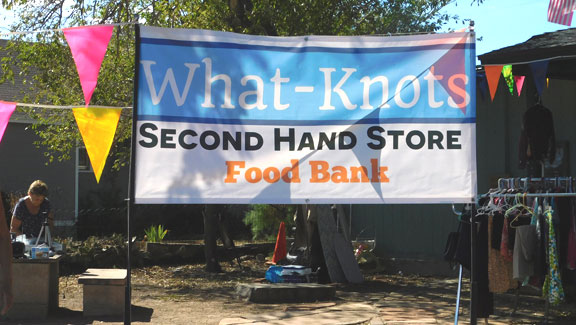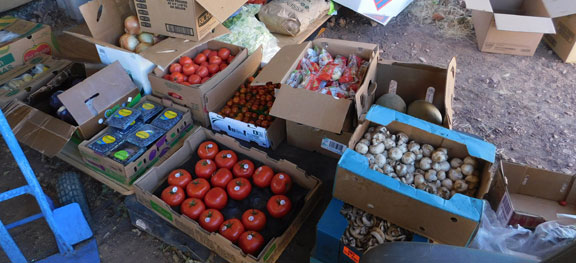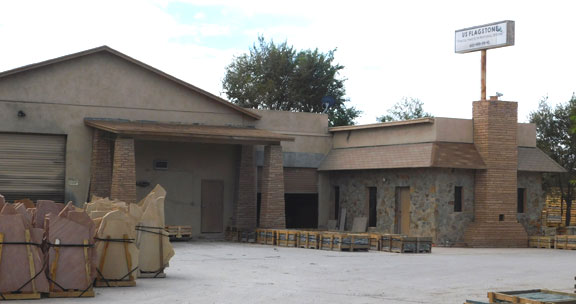 US Flagstone - on of several flagstone companies in town.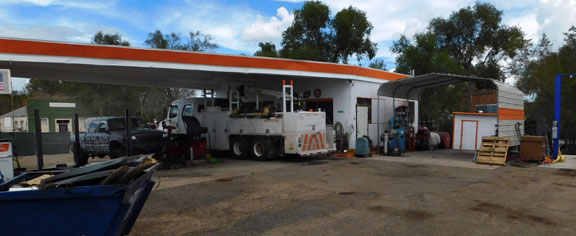 Relatively new is Patriot Auto & Truck repair on Lewis Avenue between Zettler's and DeSoto's Salon.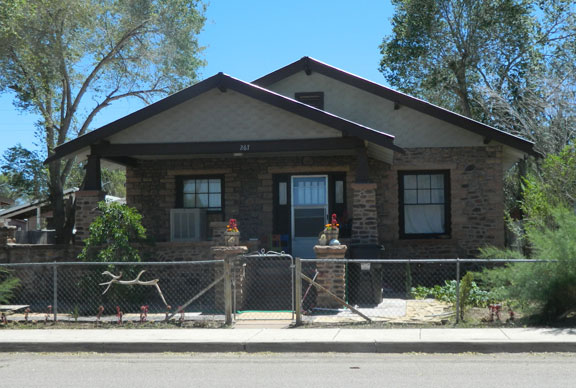 One of many neat little stone houses.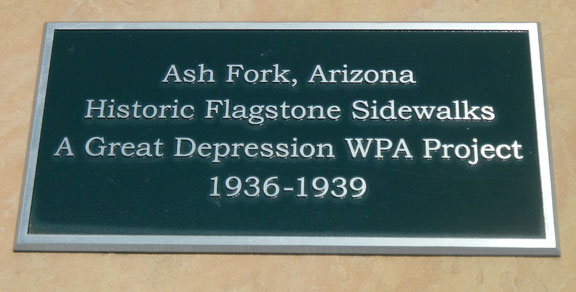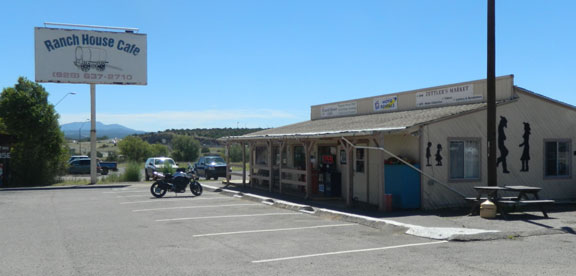 One of several good eateries in town, I frequent this one often.
Below:
Zettlers Route 66 Store in now closed and for sale. Below are fond memories of the place.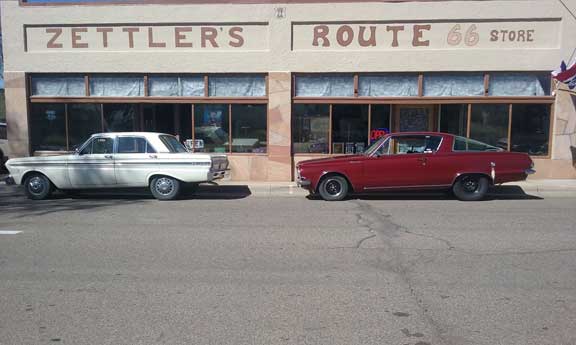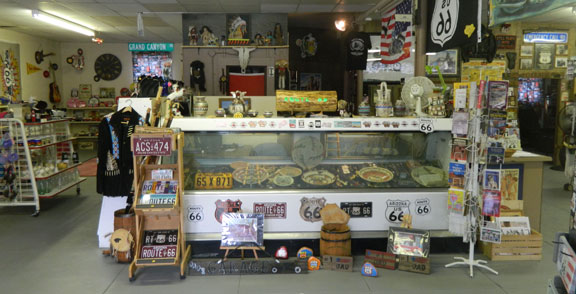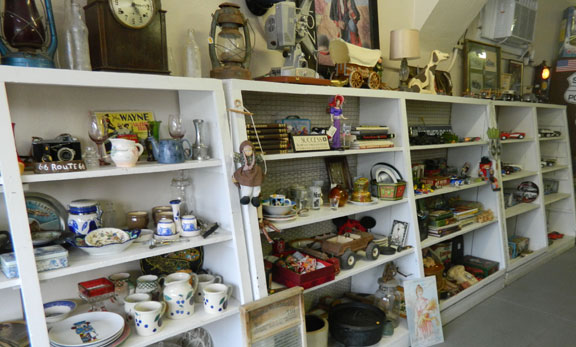 At the site of the iconic Zettler's Market -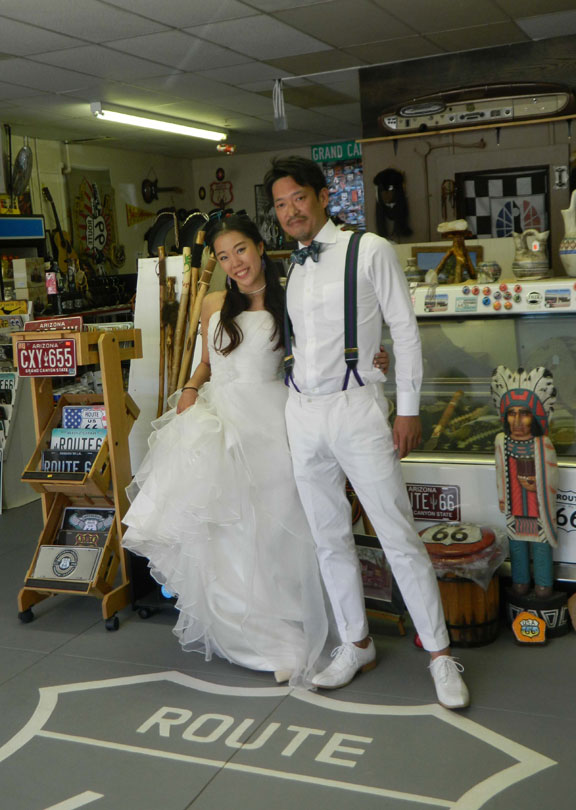 You never know who is gonna pass through town. This couple from Tokyo was on their honeymoon and stopped at Zettlers in their wedding garb.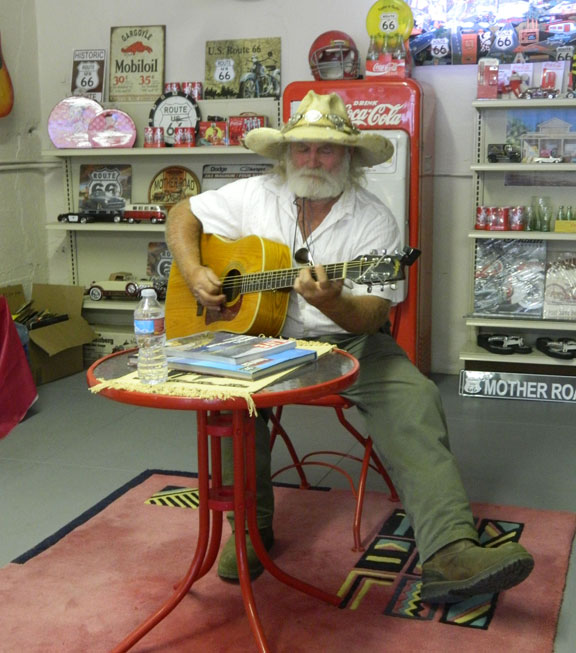 A local musician Dan playing at Zettler's 66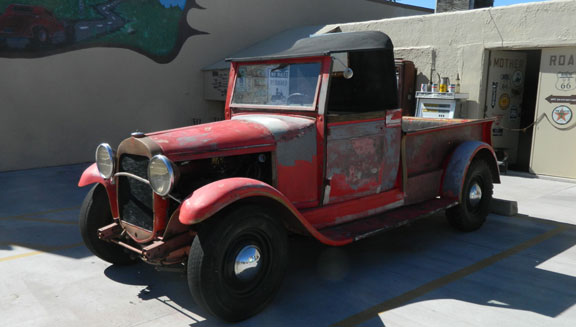 1928 Ford Truck Kirk is working on at Zettler's Route 66 store. They have a constant variety of vintage vehicles and motorcycles for sale or for drooling over!
BELOW is as it is today. Sold in October 2016 and shipped to Germany!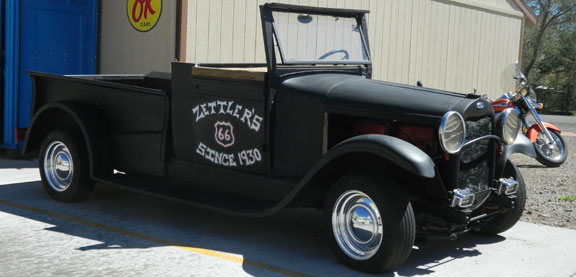 Travelers from Japan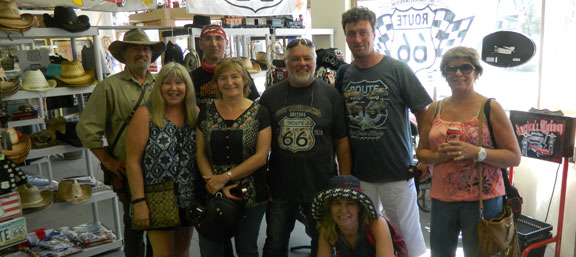 A group from Belgium - The author of this site and his wife are on the far left. We met the group in Seligman and directed them to Zettler's in Ash Fork.

Kirk gets a little help washing his Ford Falcon from Kayden. Vintage cars, trucks and motorcycles can always be found at or passing by Zettlers.

Always a happy face to greet you. Kirk & Yvette Slack and Marty Slack Mittone.
-----------------------------------------------------------------------------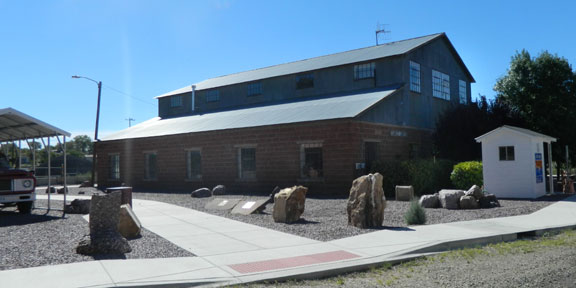 The Ash Fork, AZ Museum. I was not expecting such a marvellous display.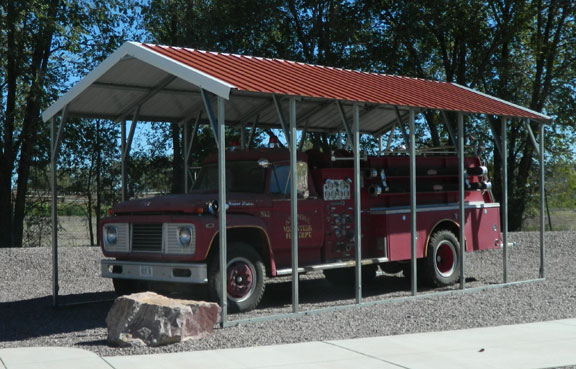 A vintage fire truck outside the museum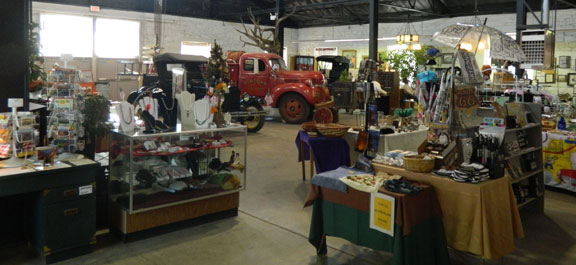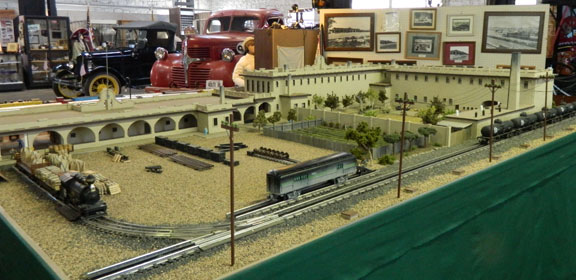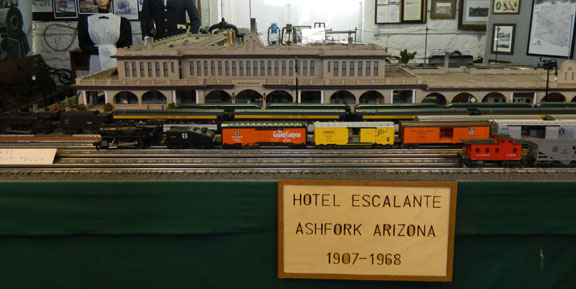 Inside the museum. Well worth the time and trip. There are also maps and books for sale in the reception area.
----------------------------------------------
Below - A view west toward Seligman with Picacho Mountain in the distance.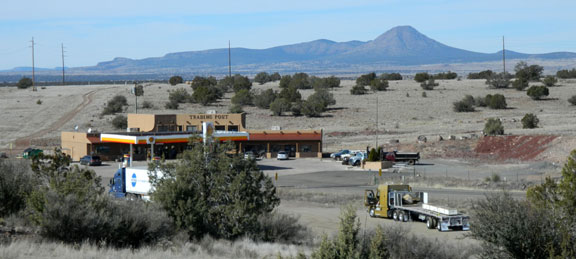 Murphy's - aka Six Shooter Molly Trading Post with food, beverages and the best damn pizza in northern Arizona! Plus souvenirs, cool stuff, necessities, gas station, propane, towing and service. Right off exit 144 of I-40.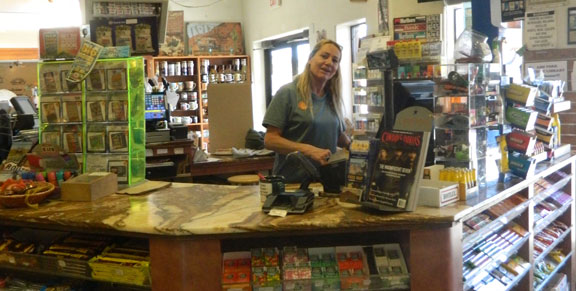 Always friendly service and local discounts on certain things like gas and ice..
Sadly, Vicki, shown above has since passed away. She was well loved by
co-workers and customers alike.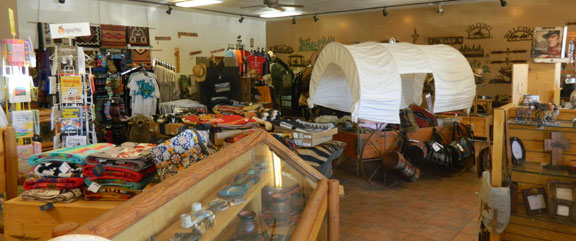 Great shop for passing tourists. Something for everyone.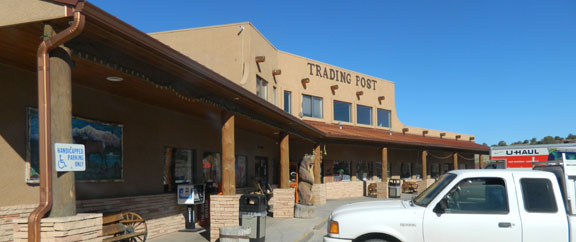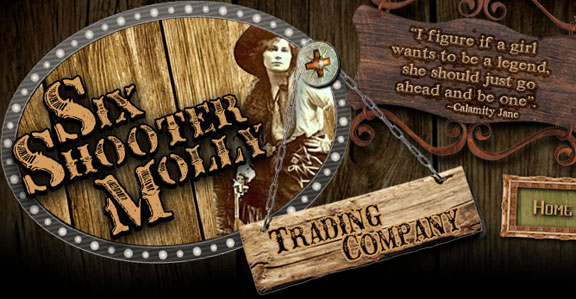 WWW.SIXSHOOTERMOLLYTRADING.COM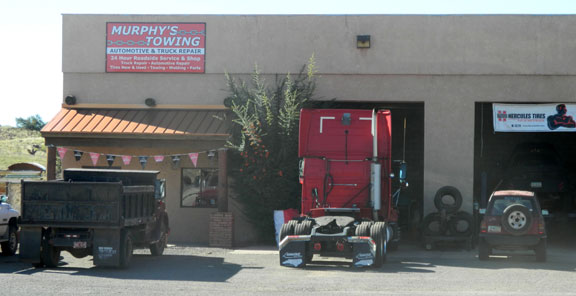 Towing and repair.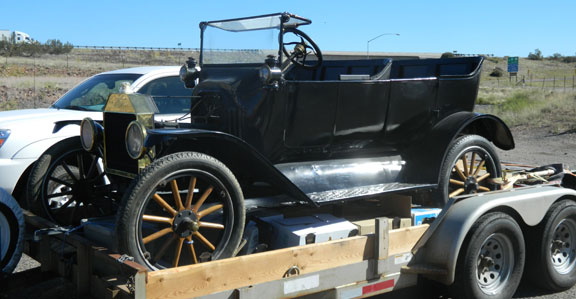 This old timer - a 1918 Ford truck was passing through and the owners stopped at Murphy's.
----------------------------------------------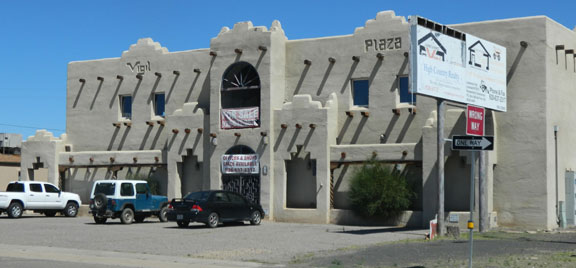 Vigil Plaza - across from the Ranch House cafe was the headquarters for a large construction company.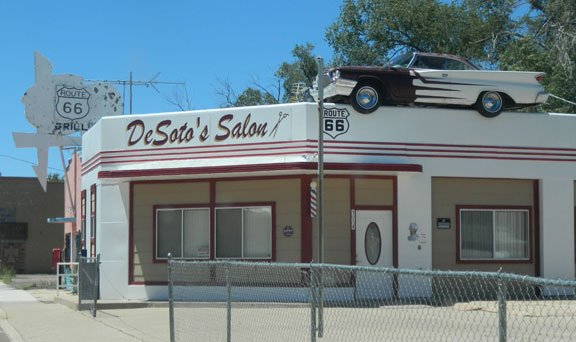 Rather unique architecture and a good reminder of Route 66 history and mystique.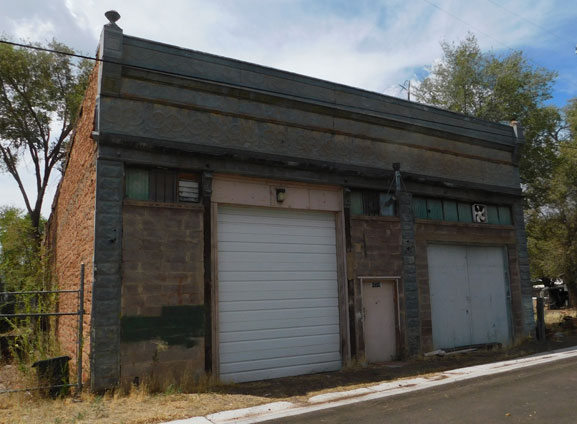 An old building on Railroad Avenue..flagsone and tin work frontice.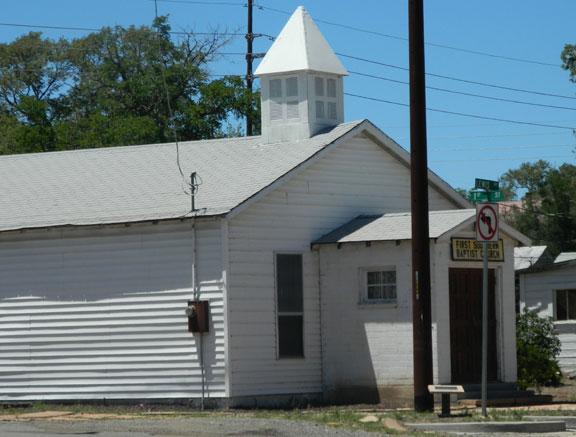 A very old church - First Southern Baptist. There are several other denominations also in town.
------------------------------------------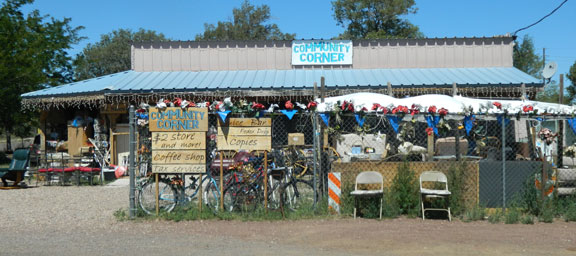 Gone but not forgotten: A charming second hand store with something for everyone. Most items are: two bucks! Unfortunately this store is now gone.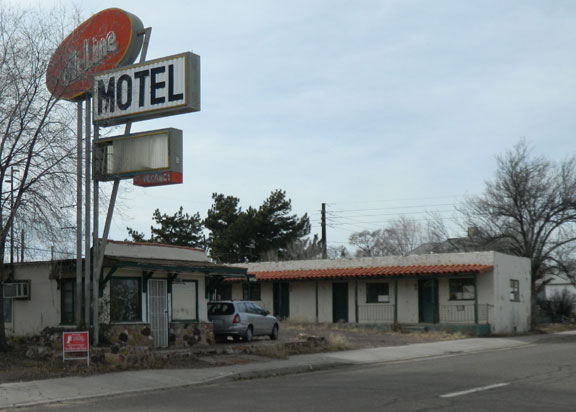 Once a Route 66 Landmark, the High-Line Motel has fallen on bad times.

A diorama I made some years back depicting Ash Fork, AZ as it may have been in the late 1800's
----------------------------------------------------------------------
From the author of this website: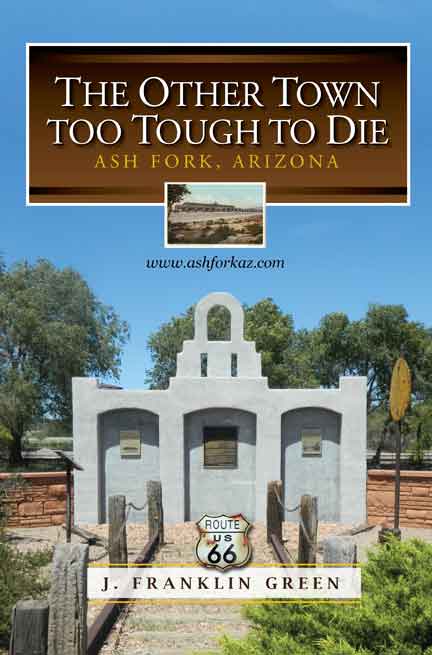 EXCLUSIVELY AT LULU PRESS
CLICK HERE
In its time Tombstone, Arizona was indeed a tough place,
rowdy and lawless for the most part until the Earp brothers,
Wyatt, Morgan and Virgil came to town. Whether they cleaned
up the town or simply cleaned up financially, has been the
subject of countless books, articles and essays. Regardless of
those controversies, the Earp's along with Wyatt's friend Doc
Holiday, a disreputable character in his own right, did take
part in the famous "Gunfight at the OK Corral." Many
considered it more of an ambush or murder, but that is
outside the scope of this book. It lasted eighteen minutes.
Since then, the event and the participants (dead or alive)
have been the subject of countless movies, television dramas,
and books. Today, it is now reenacted, almost daily and
businesses throughout town are devoted to the legend.
If that single event warrants the nickname "too tough to die,"
so be it. However, there are other definitions of tough.
Hard work, grit, sweat, perseverance, determination, adaptability
and survival also define that word.
If so, Ash Fork deserves the name tough, for it has been
exactly that for far longer. It was, and still is, tough because of
all of the hardships, economic booms, busts and catastrophic
fires in 1893, 1905, 1977 and 1987 it has endured. And that
in an area of geography that is just plain tough to live on.
Good times always followed by downright hard times, but the
people have carried on to this day.
CONTENTS
INTRODUCTION
EARLY HISTORY
THE GREAT WESTERN ROAD
THE RAILROADS
THE ESCALANTE
THE RANCHERS
THE MOTHER ROAD ROUTE 66
THE TOWN TODAY – TOUGH AS EVER
NEW RESIDENTS & OFF-GRID LIVING
90 pages
with many illustrations and photographs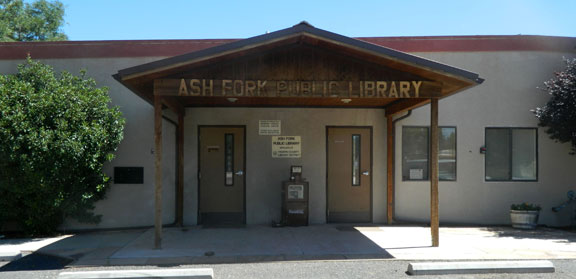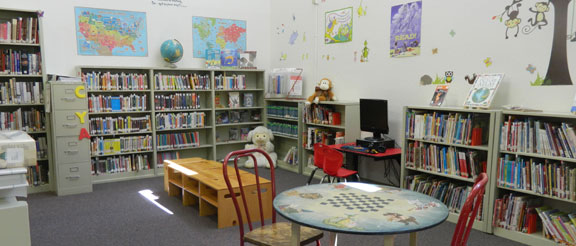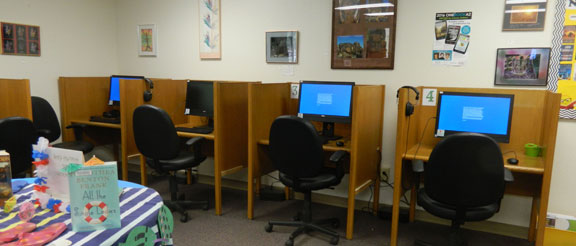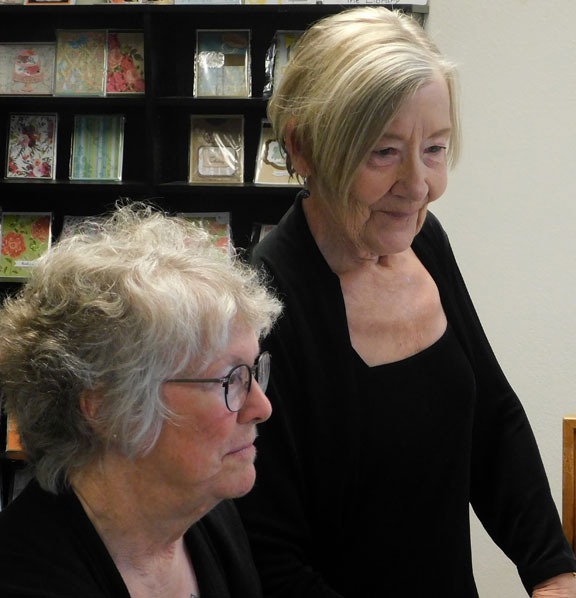 Above, the Ash Fork Public Library, may not be big, BUT it has everything a modern library does, including computers, w-fi and a great childrens room.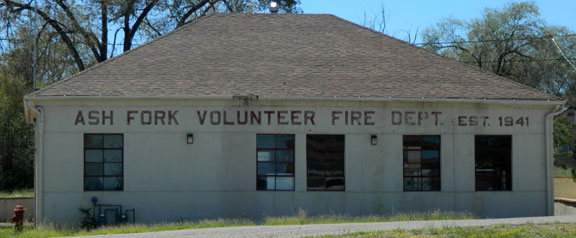 Ash Fork volunteer Fire Department.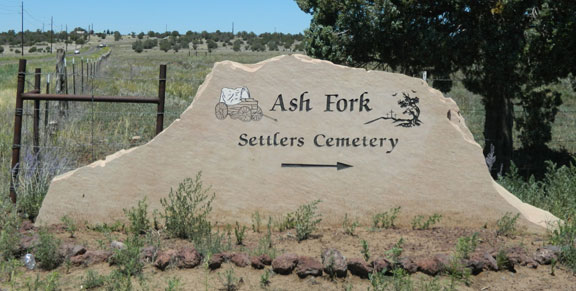 Ash Fork Settlers Cemetery. A fascinating look into history. It is about half a mile north of town on Double A Ranch Road.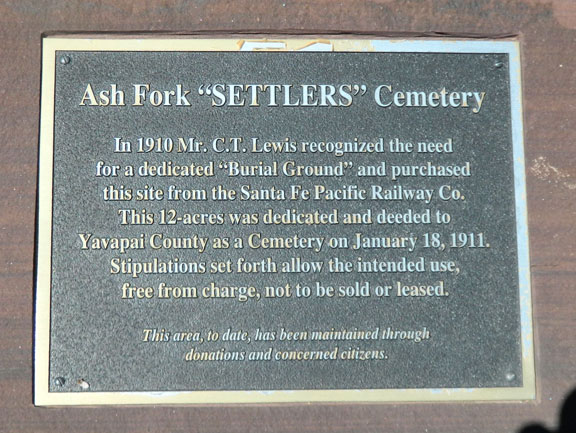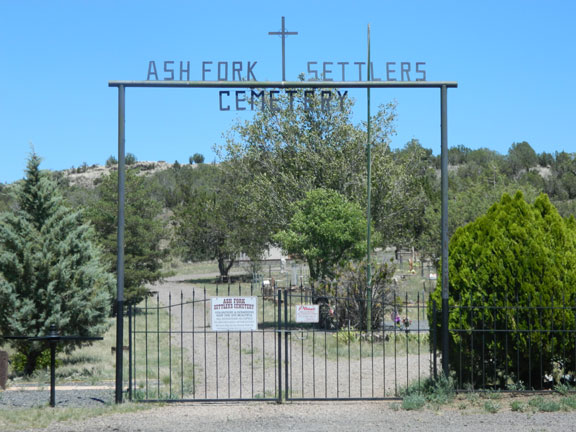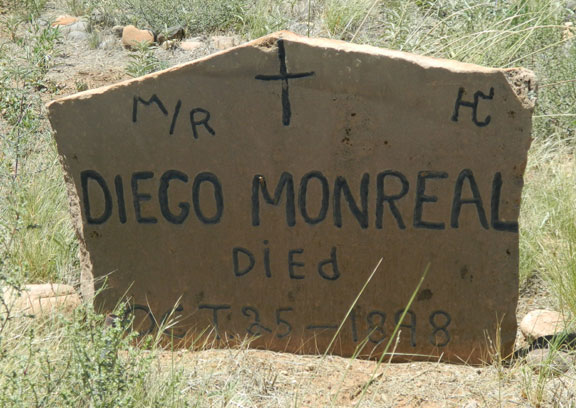 This was the oldest marker I found. Many are unmarked. The one next to this on the left simply says: "John Doe"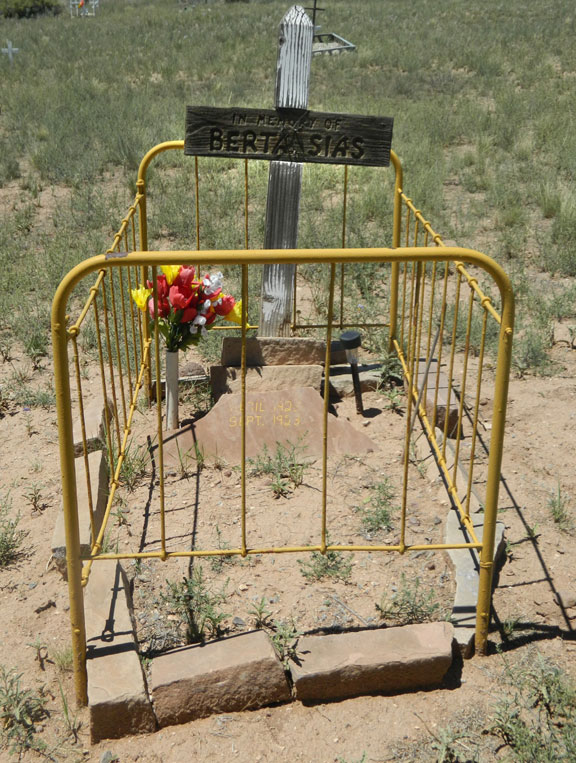 There are many graves marked like this for infants and children.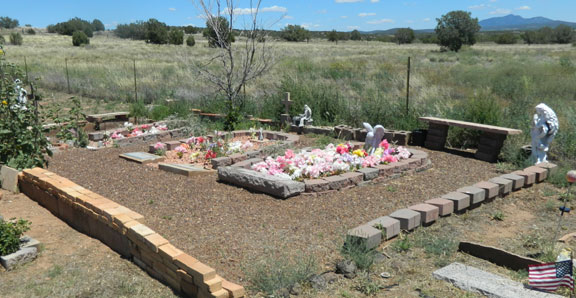 A beautiful and well kept family plot.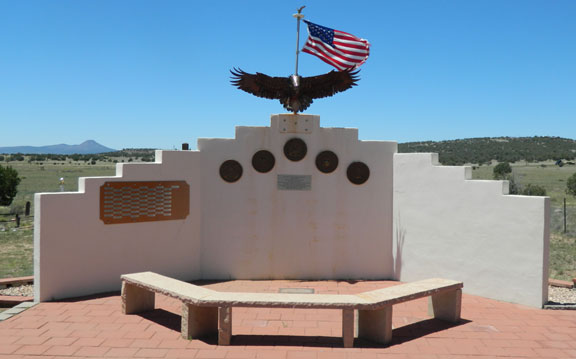 The plaque on the left commemorates veterans from Ash Fork from the Spanish American War to present day. The five circular ones represent all 5 branches of service.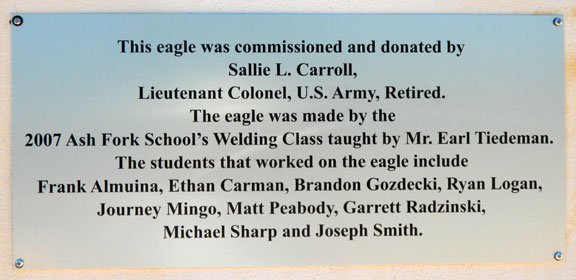 Below - The Virtual Closet has recently relocated west a couple of buildings or so and where you can find great deals on second hand merchandise.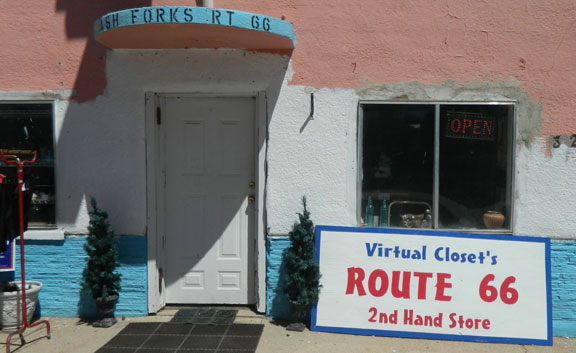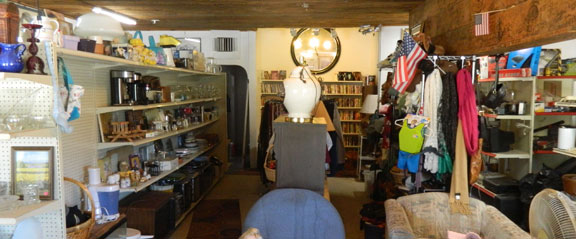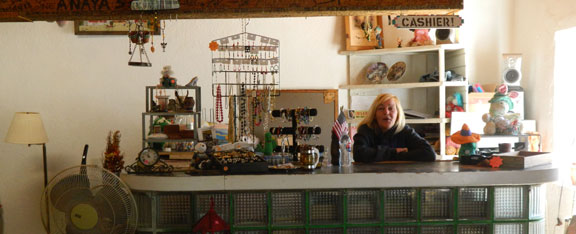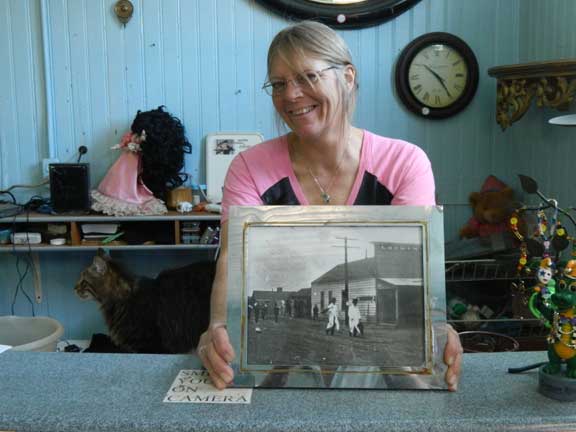 Lisa at the Virtual Closet gives you a smile and great service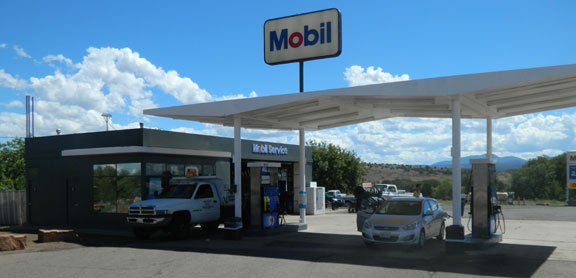 Since 1954 - The oldest station in town. Gas, service, propane and more.
-----------------------------------------------------------

Lulu Belle's - Barbecue and happy hours...

Ash Fork High Scool - note the artificial turf for football field. Baseball field has the same. In 2014 Ask Fork had the BEST performing school district in Arizona!
------------------------------------------------------------
North of Ash Fork, AZ a few miles: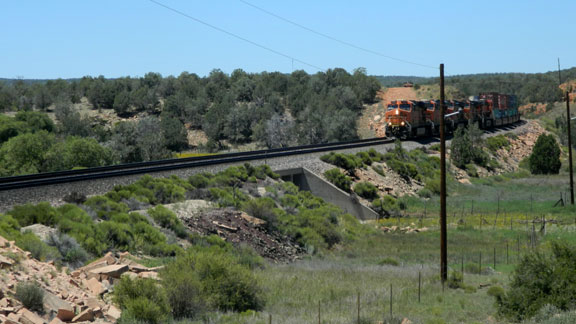 Trains still rumble by today. This one north of town seen from Forest Route 42 in the Kaibab National Forest.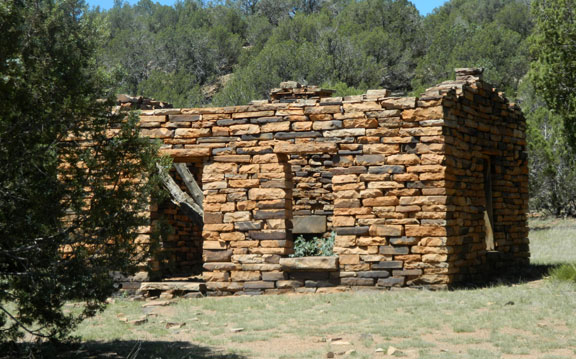 This ruined stone house is a well recognized landmark.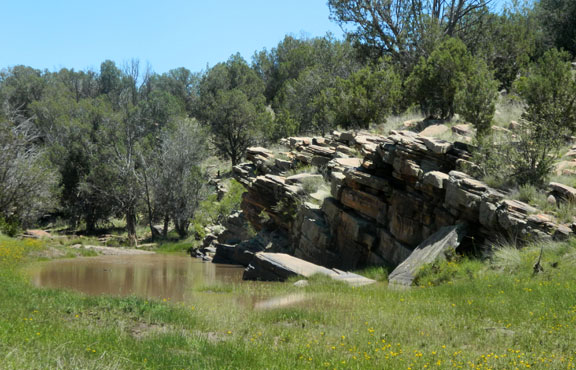 Just north on Sevens Ranch Road in the Kaibab National Forest near the old Ash Fork Dam. I am told there was also a lake out this way but an earthquake in 1982 drained it and closed off the springs that fed it.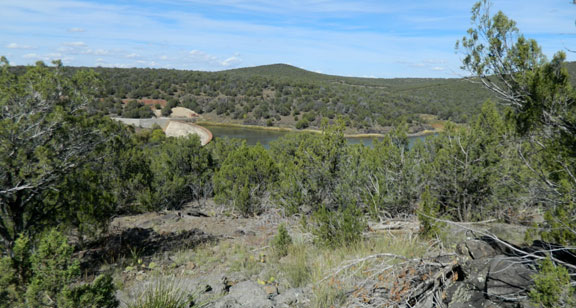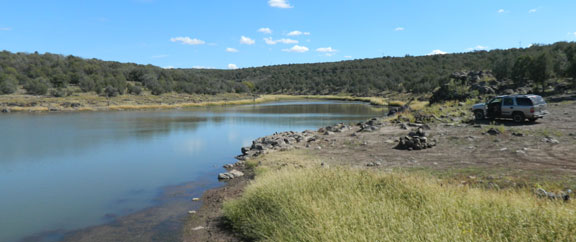 Above is Stone dam off of a deserted Route 66 stretch. Built in 1911. Originally to collect water for the Railroad, it is now a popular fishing and hiking area.
Directly west down a trail about a half mile is Steel dam built in the late 1800's.
-----------------------------------------------------------
OTHER LOCAL BUSINESS'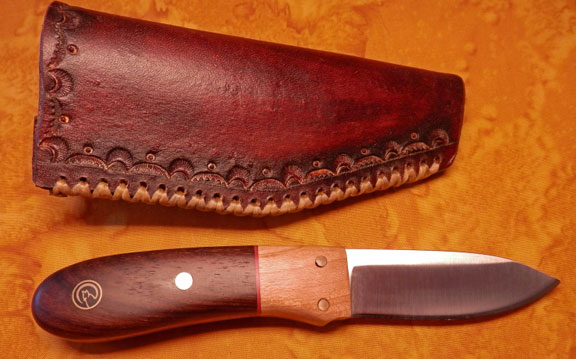 Moon Dog Knives
We bought our home in KEW and moved here in December 2018. Terry works from his shop at our home at 3665 N Mark Place, Ash Fork, AZ 86320. He can be reached by either the FB or open website, phone 360.383.7694 or at email moondogknives@gmail.com. Potential customers and those interested in his work are welcome to come to the shop but we do request you call first. There are Australian Cattle Dogs on the property and we prefer to contain them when we know we are going to have visitors. In addition to making custom knives, Terry reconditions and repairs old knives and sheaths and he also offers knife sharpening services. www.moondogknives.com

THE RANCH
Hay, Feed, Beef, Pigs & Sheep. 928-351-4581.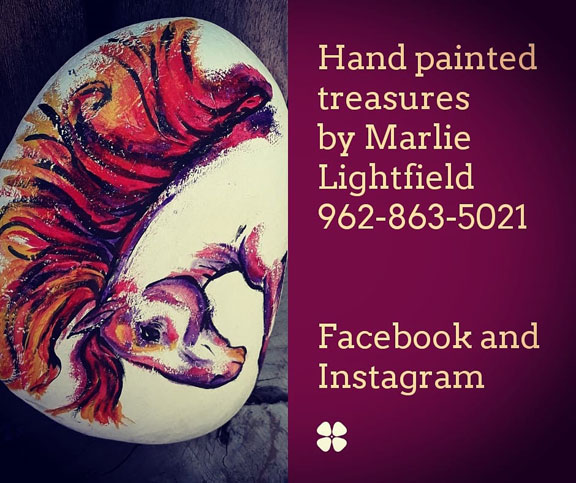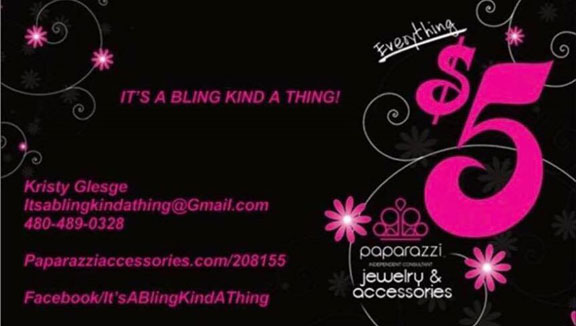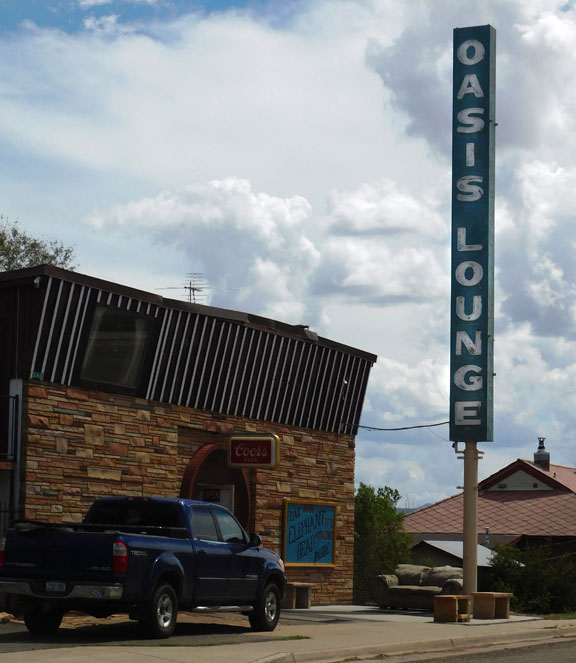 THE OASIS on Park Avenue. A good place to wet your whistle or grab a meal.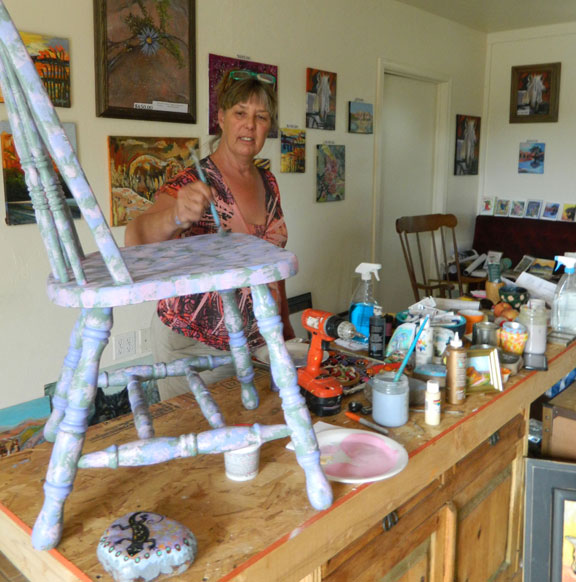 A local artist - Donna Hovett working on a project.
see her on Facebook at: djottoart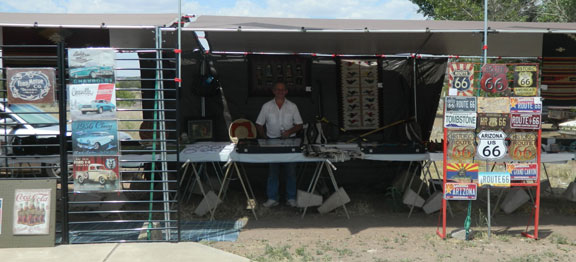 Gary and Debbie sell great stuff at Roadside 66 -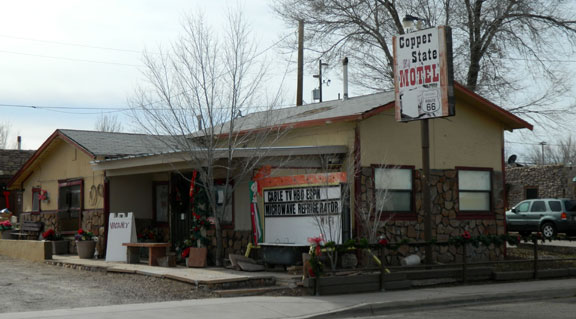 A long established Route 66 landmark, The Copper State motel is still in business for short and long-term guests.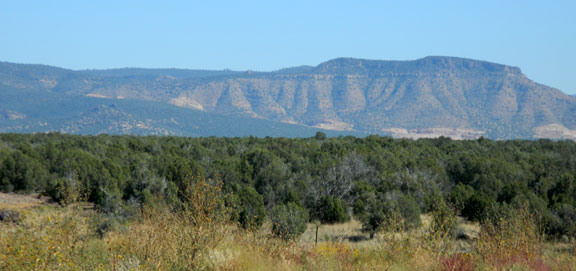 South of Ash Fork on AZ state route 89 near Hell Canyon.

West on route 66 - see the Seligman page for more route 66.
----------------------------------------------------------------------
NEW from the author of this website:
Includes one story set in Ash Fork and others of interst to
people who live in and love the Southwest.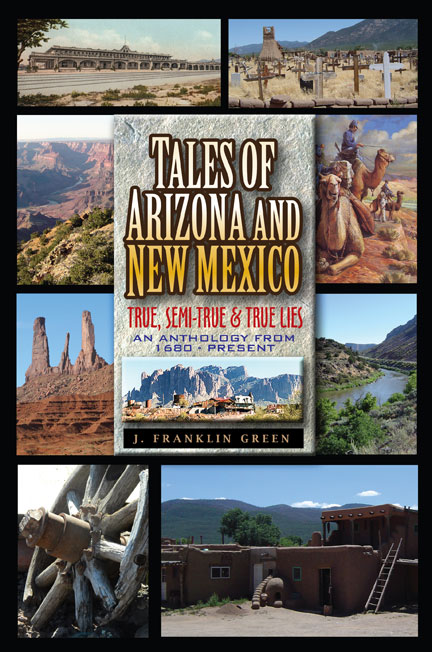 AVAILABLE IN PAPERBACK
CLICK HERE
True, Semi True & True Lies

HISTORIC FICTION & NON-FICTION:
An eclectic collection of short stories and novellas
plus the history behind the stories.

Seven remarkable stories inserting fictional and not-so-fictional
characters into true western history and locations. They take
place from 1680 to the 1800s and through to present day including
myths, legends, greed, gold, life, love and glory. The author,
who has lived in Arizona for over two decades, has been to all
of the locations, often multiple times and studied the history
in depth.
The appendix gives brief overviews of the true
history of the times and places.
CONTENTS
INTRODUCTION
GOLDFIELD
GUNFIGHT AT THE ESCALANTE
REVOLT AT THE TAOS PUEBLO
THE LAST CAMEL IN NEW MEXICO
SELIGMAN STOWAWAY
KWI-KA-KIKINEE
BACK TO THE 1890's
APPENDIX
(history and notes- not anatomy)
The Taos uprising in 1680
The Other Town too Tough to Die –
Ash Fork, Arizona
198 pages 6" x 9" - illustrated
SEE ALL OF HIS BOOKS AT www.jgreenbooks.com

Ash Fork, AZ - founded in 1882