HOW IT WORKS:
1. Choose the package you want to the right. Enter your information and payment through our PayPal secure link.
2. Send us your digital photos, captions and text as per package directions
If you have some photos that are not digital, we recomend you bring them to a local source like Kinkos or Office Max for scanning, but we can scan them for you for an additional cost of $5 per photo plus $8.95 return postage and handling. (Because of the heirloom value of personal photos we recommend you have them scanned and sent to us)
3. Allow 7-10 working days and we will send you a low resolution digital proof via e-mail. Upon approval, we will forward a high resolution file that you can either print yourself or bring to a commercial source such as Kinkos, or OfficeMax. In additon we will send you a low resolution version suitable for e-mailing friends.
If we have any questions, we will e-mail you for clarification. Be sure to use the e-mail address you most commonly check because this is where we will contact you.



Preserve and repair family heirloom photos easliy and affordably.







- quantity discounts
- special effects options
- titles & captions
- preserve and digitize family heirlooms

PACKAGE OPTIONS:

THE SOLO
A single photo retouched to remove and/or diminish blemishes, cracks, wrinkles etc.

$19.00 ea.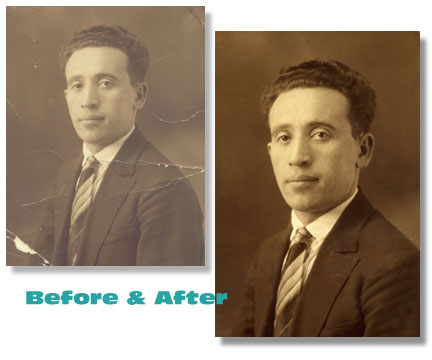 This is one in a series of 17 photos we retouched for a Jewish family who sent us old photos of relatives, some of whom did not survive the Holocaust. We fixed them all, added some soft special effects and toning and also did a "Creative Collectible" composite.